HOT SEAT
RGlll's mom on hotseat on air
 
      Raven's Wizard of Oz 
                 

Ozzie Newsome Raven's GM and Cleveland Brown player
The architect behind this great turn around is the quiet and seldom seen General Manager Ozzie Newsome.  All personnel decisions come through him.  When Ray Lewis' career seem all but over it was Ozzie and the late Raven owner Art Modell who went to Atlanta and got Lewis out of jail.  The decision saved Lewis and it saved the franchise.
I met Ozzie his rookie year at RFK Stadium in Washington, DC.  This was after he was the 23rd pick in the 1978 NFL Draft for the Cleveland Browns.  I approached him for an interview at his locker after a heart breaking lost to the Redskins.  Some players don't make great interviews after a lost but he was open and eager to talk about the game.  I was impressed by his professional attitude and how losing was not a matter of life or death.   He gave me his contact number and told me to stay in touch.  I have been cheering for him ever since. 
In 1978 he became "Mr. Clutch" and was named the Browns' Offensive Player of the Year.  This was the first time in 25 years that a rookie had won the honor.  Ozzie earned All-Pro honors the following year, 1979, and again in 1984.  He went to the Pro Bowl in 1981, 1984 and 1985.
In 1984, he set a franchise record for receiving yards in a game (191).  The record still stands to this day. In 1986, he won the Ed Block Courage Award for playing with injuries
His pass routes knew no boundaries and he took the blows.  When the Browns needed to move the chains they looked to the "Wizard of Oz" and he seldom failed them.  Ozzie did not miss a game in his entire 13-year NFL career, playing in 198 consecutive games with 191 starts. The closest comparison to Ozzie "Play with pain mentality" is The Iron Man legend of Cleveland Brown's running back Jim Brown.  I think he missed at least one game during his 9 year career!   

In 1990 Ozzie won the "The Whizzer White NFL MAN of the Year Award" for his community service.  I was not surprised that he was the recipient of this prestigious award.  There was nothing selfish about Ozzie Newsome.  When he found time to participate on "Inside Sports" we talked about the plight of inner-city children, the upcoming game and his stats were mentioned only in passing.
Ozzie finished his career with 662 receptions and 7,980 yards, both Cleveland franchise records.  His 47 touchdowns are fourth all-time. When his career came to an end in 1991 he had averaged a first down after each reception (12 yd. per catch).  In 1999 he was inducted into the Pro Football Hall of Fame. 
He was named the Baltimore Raven GM in November 2002.  Ozzie was well prepared and qualified for the position, he had been in the Brown's Executive Front Office since 1991.  Since Ozzie's pioneering efforts the NFL has taken the lead as an Equal Opportunity employer.  There is Jerry Reese (Giants), Martin Mayhew (Detroit), Rick Smith (Texas), Reggie McKenzie (Oakland) and before he got fired there was Rod Graves (St. Louis).  What difference a man (Ozzie Newsome) and a day makes!
I remember it was in the 2000 Super Bowl I had written a commentary calling it the "Plantation Bowl!"  
The reason, because NFL owners were still operating with a Plantation Mentality.  There were no blacks working in the front office except at night on the cleaning crew.  I take my hat off to those NFL owners and Commissioner Roger Goodell for opening the doors that were closed for so long.  The sad truth as they open one door another shuts.  It looks like those owners who don't care to hire qualified minorities have found away to get around "The Rooney Rule." The more things change the more they remain the same!
The Rooney Rule is named after the family that owns the Pittsburg Steelers.  They were ahead of the curve when it came to diversity and equal opportunity on and off the field.
Their only blemish on the record is the treatment of the franchise's first black QB, "Jefferson Street" Joe Gilliam. Joe was a graduate out of Tennesee State University.
He was the team's starting QB ahead of Hall of Famer Terry Bradshaw.  Coach Chuck Noll would later bench him because the racist Steeler fan based demanded it.
His won-lost record at the time of this traversity, the team was one game out of first place in the division.
Joe Gilliam never recovered from this slight.  He turned to drugs and alcohol and died from what many contributed to a broken heart. 
In 2012 there were 8 head coaching and 7 GM positions vacant after the regular season but when the dust had cleared not one black coach or GM had been hired! 

NFL Executive Vice president of Human Resources Robert Gulliver stated, "While there has been full compliance with the interview requirements of the Rooney Rule and we wish the new head coaches and general managers much success, the hiring results this year have been unexpected and reflect a disappointing lack of diversity."

The Rooney Rule is named for the family that owns the Pittsburg Steelers.  The Rooneys were way ahead of the curve when it came to diversity and equal opportunity on and off the field. 
 
Analysts have pointed to the lack of interview offers for Baltimore Ravens' Offensive Coordinator Jim Caldwell, who, as head coach, led the Indianapolis Colts to a 14-2 2009 season along with winning the 2009 American Football Conference title before losing in Super Bowl XLIV, as evidence that the rule needs revision.
Some sports analysts have called upon the NFL to modify the Rooney Rule by requiring NFL teams to interview a minority candidate outside their respective organizations, and extending the rule to include interviews for offensive and defensive coordinators.
How can a great coach like Lovie Smith who was fired in Chicago be without a job?
Rule changes are not the answer.  The answer is---changing the heart!.
Ozzie Newsome earned a Super Bowl Ring when the Ravens defeated the New York Giants 34-7 in Super Bowl XXXV.  He has a keen eye for talent all you have to do is look down the Raven's roster and see how many players in uniform came in the late rounds of the draft.  There is little doubt on why he is one of the most respected General Managers in pro sports bar none!
When the Baltimore Ravens host the Super Bowl Trophy in New Orleans on Sunday I would be surprised to see Ozzie on camera.  He will probably be in the crowd looking just like one of the guys.  Success has not spoiled Ozzie Newsome.  Unlike most, he has handled success, it has not handled him!  
NEVER SIT ON THE BENCH:
LIFE STORY OF A SUPER STAR IN THE GAME CALLED LIFE!

Minnesota Viking QB Fran Tarkenton
                                               Harold, Fran & Hattie
Fran talked about how he had teamed up with Home Depot one of the sponsors of the Small Business Administration's week honoring small business entrepreneurs.

I knew I needed to be a part of this weekend for no other reason than to thank Fran for being a gentleman and class act while helping me to break-in as a rookie sports talk show host. 

When I broke into sports broadcasting in 1971 (WOL Radio). Fran had already been a QB in the NFL for a decade.
In 1971 new Redskin coach George Allen replaced fan favorite Sonny Jurgerson with newly signed journeyman Billy Kilmer at QB. This started a QB controversy that took on a life of its own in the Nation's Capitol. 
George was a control freak and he knew he could control Billy better than he could Sonny.  There was no controling Sonny because he was at the top of his game when George arrived in DC.

Washington beat the NY Giants 23-7 in RFK Stadium in 1971 and after the game I went to the Giant lockerroom. 
I went there looking for no one in particular.  I found Fran standing in front of his locker as cool as a cucumber.  He was taking questions from a lone reporter. 

I was trying to wait until the reporter completed his line of questioning but he was going on and on.  Fran just turned and said "Hello" giving me an opportunity to join in on the discussion.  I don't even remember what I asked him but I took over the Q & A and the reporter finally left.  I never forgot Fran's kind act.  Unknown to me this would be his last year with the Giants.
You never know who you are going to touch in this Game Called Life.  For the next decade Fran and I were like ships passing in the night.  He never knew my fate but I would watch from a distant as he became the QB that defenses would hate to see on "Any Given Sunday."
One of the most important remarks Fran made during his breakfast speech was stressing the importance of "Never Sitting on the Bench!" 
He was born in Richmond, Virginia but his early years were spent in DC at 602 Maryland Avenue NE.  His first taste of entrepreneurship was delivering and collecting for the Washington Star newspaper at 7 years old.
His family would later pull up stakes and move to Athens, Georgia where he would excel as one of the state's best high school QBs.  
Colleges were recruting him from all over the south, everyone but the one he wanted to attend--the University of Georgia Bull Dogs.  Fran had his heart set on attending the school but it seem they were not interested in a QB that stood under 6 feet tall.  They reluctantly signed him.  The coach Wally Butts told him he had 2 guys in front of him who he thought were better---but Fran didn't! 
Freshmen were not eligible to play varsity sports their first year in 1957.  He played junior varsity and the next year he made his move to the varsity.  He out performed the 2 QB upperclassmen ahead of him on the depth chart, but coach Butts never saw the light.
Instead of a promotion Coach Butts suggested a demotion. He wanted to redshirt Fran for the year.  Fran made it perfectly clear he was planning on graduating in 4 years and on time, redshirting was not an option.  
During the attempt to redshirt him, Fran was learning all the plays and was in uniform  with the Bull Dogs to open their season on the road.  The opponent was the University of Texas under the lights with 70,000 fans to root them on to victory.  Talking about bright lights Big City Fran was in awe!
Once the game was under way, Fran was like Coach Butt's shadow he never left his side.
The Bull Dogs' offensive execution was dismal at best. 
The team was midway into the 3rd quarter and trailing 7-0. They had not registered a first down and it seem like the Bull Dog's punter had spent more time on the field than the starting QB.
It was late in the 3rd quarter with the team backed up on its own five yard line, Fran spotted the starting QB sitting on the bench trying to catch his breath.  He sprinted on to the field and was in the huddle calling the plays before anyone could figure out what was going on. 
By the time the 4th quarter rolled around Fran was on a roll.  He had the Longhorns out of breath and on their heels.  In the meantime, Fran refused to look over to the sideline.  He was scared of what he might see staring back at him (Coach Butts).  
Fran had run and passed the Bull Dogs down to the Longhorns 5 yard line with 3rd and goal.  In the huddle he told the players "We must get this ball in for the score or I am going to be on The Midnight Train from Texas to Georgia."
The next play he called was a roll-out looking for anyone eligible to catch the ball or a seam big enough for him to scrambe in for the score. On the play he found his wide receiver No. 88 and hit him right between the numbers---Touchdown 7-6.
When you start to talking about a River Boat gambler meet Fran Tarkenton.  His next BIG decision was chasing the extra point kicker back to the side line.
This was the first year of the two-point conversion being implemented for college football.  Fran had decided it was going to be--Do or Die!
His next plea to his teammates was "Look guys if I miss scoring these two points not only I am going to have a long ride back to Georgia on the train, Coach Butts is going to kick me off the team."
Everyone on the field knew including the opposition what the call was going to be "Roll Out!"
Breaking the huddle Fran looked over the long Horn defensive aligment and it looked like they were still trying to figure out what to do?

He barked the signals and at the snap of the ball he rolled to his right and found nothing.  He rolled back to his left and found nothing again.  Desparately he rolled back to his right and as he was going out of bounds he spotted his tight end No. 89 wide open.
Fran had to take a deep breath before he made the throw because this guy stood 6'4 230 lbs but he had Hands of Stone.

He hits his man right between the 8-9 and the ball pops up into the air as his receiver falls to the ground flat on his back.  While his receiver is lying there on his back the ball falls into his chest---final score Georgia 8 Texas 7.
In the lockerrom everyone is celebrating but the startng QB approaches Fran and asked "When did Coach Butts make the decision to replace me." 
Fran's response, "I made the decision to replace you coach had nothing to do with it."
The player assumed because Fran was standing by Coach Butts the entire game, he thought that coach had made the decision to replace him.
The Lesson: Never assume anything and don't ever sit on the bench!
I could relate to that lesson because during my high school, college and my minor league pro football career as a Wide Receiver I refuse to sit on the bench. 
My problem according to my teammates and coaches "I never saw a footbal I could not catch and I was always open." 
Fran's sophomore year on the varsity could easily be titled "Believe it or not."
Fran, never sit on the bench in high school, college or the NFL and he certainly has not sit on the fence in the Game Called Life.
He has been an outspoken opponent when it comes to the see no evil, hear no evil, speak no evil, and write no evil on drug abuse and nature homones being use in the NFL.  He agreed and spoke out on the penalities and $60,000,000 fine leveled by the NCAA against Penn State.  He called out President Obama for half stepping and sitting on the fence when it comes to solving the ills of this nation.
He sounds a lot like Harold Bell and the Inside Sports radio talk show format.
I would make my mark in sports talk radio.  In 1972 I became the first black to host and produce his own radio sports talk show in Washington, DC. 
The Original Inside Sports was first heard on W-O-O-K 1450 A M Radio.  In November 1975 I became the first black to produce and host his own television sports special in prime time on NBC affiliate WRC TV-4 in Washington, DC.   The show was titled "Spotlight on Sports."   The Greatest, Muhammad Ali was my special guest.
Ali and wife Varonica     On the Mountain Top with The Greatest
Sports columnist Bill Taaffe best described the Inside Sports talk radio format in the Washington Star in 1978.  He said, "Talk Show Host Harold Bell Blazes a Path Inside Sports.  He is a unique sportscaster, former athlete, youth leader and social critic all rolled into one."      
I called NFL Hall of Fame RB/WR Lenny Moore of the Baltimore Colts to tell him that Fran was in DC.  He said, "Harold folks are always talking about athletes as warriors, Fran is the NFL's definition of a Warrior, he was a great athlete."
Union Station: Celebrity Toys For Tots Drive
Extreme right:Roy and Lenny/NY Jet RB Lamont Jordan and Lenny
All-Pro NFL WR Roy Jefferson was in the Doctor's office (knee replacement) when I called to tell him that Fran was in town.  He said, "Man, I played with 2 of the greatest NFL QBs of all-time, Johnny Unitas and Sonny Jurgerson. But I always wished I could have played with Fran, he was such a great athlete who could beat you with his arms and feet.  I loved watching him except when I had to play against him."
Harold McLinton (Santa Claus) and L-R Santa's Helpers Dave Robinson and Roy Jefferson
Dave Robinson former Green Bay Packer LB great and recent inductee into the 2013 NFL Hall of Fame said, "Fran gave us headaches and the blues when we played against him.  He was tough to defend against because of his passing accuracy and when you thought you had him for a sack it was, now you see me and now you don't.

I came into the league as a rookie in 1964 and I chased Fran from sideline to sideline in Minnesota to the NY Giants.  I finally sacked him in a NY Giant uniform in 1967.  I have the photo from the Giant game to prove it.

The late Decon Jones originated the phrase NFL Sack but Fran is the original NFL Scrambler."
In 2013 Fran Tarkenton is still the number 1 ranked scrambler in the history of the NFL.  The great Philadephia Eagle QB Randall Cunningham came in a distant second.

Fran lasted 18 years in the NFL, he completed 3,686-of-6,467 passes for 47,003 yards and 342 touchdowns, with 266 interceptions. On the ground, he added 3,674 rushing yards and 32 touchdowns on 675 carries. He also among the all-time leaders for wins by a starting QB with 124 regular season victories.
When I mentioned to Dave Robinson that Fran lasted 18 years, he said "I am not surprised, you never could get a good clean hit on him. He was Mr. Twinkle Toes to me."

Fran's NFL career is similar to pro golf legend Phil Mickelson's career.  Phil just finished 2nd at the 2013 U. S. Open for the sixth time in his fantastic career.
Stop and think how many pro quarterbacks or pro golfers wish they could finish second?
Fran has been there and done that.  In 1972, he was traded back to the Vikings where it all started.  The remaining seven years of his career, he would lead the team to six NFC Central Division championships and 3 appearances in the Super Bowl only to finish runner-up. 
He also earned MVP honors in 1975. He never did land that much sought after NFL title, still he retired as one of the greatest quarterbacks to ever play the game, scramble or otherwise!
I was reminded of how I never sit on the bench or on the fence after the SBA breakfast.  My wife and I were standing around talking when we were approach by a young man who introduced himself as Lloyd Blackwell.  He worked for the Small Business Administration. 
I was not ready for the next words that came out of his mouth, he said, "Harold Bell you are a legend in this town and you are my hero.  You inspired me to be where I am today.  I use to listen to your sports talk show every Saturday.  You were an inspiration to me and other black men in my neighborhood."
He almost brought me to tears.  The envy, jealousy and haters that comes along with success in my community has been a tough pill to swallow.
There are few if any financial rewards in helping others but the spirtual rewards are unlimited---meet Fran Tarkenton and Lloyd Blackwell "Nice Guys" who didn't sit on the bench or fence and never finished last.
 GOLF: TIGER WHO?
BRITISH OPEN MIRACLE AT MURIFIELD

   IT WAS HUGS ALL AROUND: PHIL HUGS HIS CADDY BONES, NEXT HIS FAMILY & FINALLY THE TROPHY

While Tiger Woods was lurking it was Phil Mickelson who came out of nowhere to win the British Open.  Just last month Mickelson suffered one of the most devastating defeats of his golf career.  On his birthday he gave away the gift he wanted the most----the U. S. Open. 
On Sunday afternoon he use that defeat as a motivating tool to win where no one thought he would, the British Open at Murilfield.  He was trailing by 5 strokes going into the final round on what many golfers call the most brutal golf course on the pro tour.  But when the dust had cleared he had joined Seve Ballesteros and Byron Nelson with five majors and is one step away from joining golf's Mount Rushmore: those who have completed the career grand slam.
It is only the US Open that keeps Mickelson from joining the select group of career grand slam winners: Gene Sarazen, Ben Hogan, Gary Player, Jack Nicklaus and Tiger Woods.
"If I'm able to win the US Open and complete the career grand slam, I think that that's the sign of the complete great player," he said. "And I'm a leg away and it's been a tough leg for me.
"There's five players that have done that and those five players are the greats of the game. You look at them with a different light."
It was special, too, for Mickelson to win this major after failing so spectacularly at the U. S. Open last month. He twice on the back nine in the final round made bogey from 121 yards away from the green, so it had to feel great to win like this after snatching defeat from the jaws of victory.
"It's a huge difference in emotions, as you can imagine," he said.
"And being so down after the US Open, to come back and use it as motivation, to use it as a springboard, knowing that I'm playing well and to push myself a little bit extra to work harder, to come out on top, in a matter of a month to turn it around, it really feels amazing.
"I thought that it could go either way. You have to be resilient in this game because losing is such a big part of it and after losing the US Open, it could have easily gone south, where I was so deflated I had a hard time coming back.
"But I looked at it and thought I was playing really good golf. I had been playing some of the best golf in my career and I didn't want it to stop me from potential victories this year, and some potential great play.  I'm glad I didn't, because I worked a little bit harder and in a matter of a month I'm able to change entirely the way I feel."
Many players, from Zach Johnson to Fred Couples, congratulated Mickelson.
Steve Williams, the crusty New Zealand caddie who doesn't exactly see eye to eye with Mickelson, sought him out to shake his hand.
Williams and Mickelson had clashed when Williams worked for Woods, back when Mickelson was in Woods' shadow, but Sunday it was Tiger who? 

But on the biggest stage, Mickelson doesn't play second fiddle to him anymore. Happy belated birthday Phil.

SETH JONES THE NEXT DEREK JETER OR TIGER WOODS? 

Seth Jones was rcently selected No. 4 overall in the NHL draft by the Nashville Predators. Many are saying he has the potential to become pro hockey's first African-American superstar.  He has the same DNA as Jeter and Woods.
Seth is the son of former NBA player Popeye Jones and the product of a bi-racial family.  He has the Hollywood good looks of Jeter and Woods and the potential athletic skills of the 2 superstars in their respective sports, baseball and golf---stay tune.
JUSTICE & JUST-US IN AMERICA!

            Brian Banks
Brian Banks' accuser ordered to pay $2.6 million in damages to Long Beach School District

(nothing to him)



 By Doug Farrar | Shutdown Corner – Mon, Jun 17, 2013 12:37 PM EDT
Per multiple reports, Wanetta Gibson, the woman who falsely accused linebacker Brian Banks of rape when they were both students at Long Beach (Calif.) Polytechnic High School, has been ordered to repay $2.6 million in damages related to the $1.5 million she received from the Long Beach School District in a 2007 lawsuit, claiming an unsafe environment. Gibson was sued for the money she received, as well as court costs and a possible $1 million in punitive damages. Gibson was not present at the ruling and her whereabouts are unknown, per the Long Beach Press-Telegram, but the court gained authorization to recoup the money through her future wages and property.
It's important to note that Banks receives none of this money. He served five years in prison and another five years on probation as a result of the original verdict, and was released only in 2012 when Banks taped her admitting that the accusation was false.

The court recognizes that our school district was a victim in this case," school Superintendent Christopher J. Steinhauser told the Press-Telegram. "This judgment demonstrates that when people attempt to defraud our school system, they will feel the full force of the law."
It is also possible that Gibson could face fraud charges, depending upon the court's opinion as to whether her 2012 recanting constitutes an admission of fraud. If the original accusation is the basis for such a charge, the three-year statute of limitations for fraud charges to be brought would void any such action.
Banks was a high school football star who had received a scholarship offer from USC and had made a verbal commitment to the school. After he was freed from prison, he reunited with Pete Carroll, who offered him that scholarship and had moved on to the Seattle Seahawks, for a tryout in June of 2012. He wasn't quite ready for prime time just yet, but he looked amazingly close for a guy who never played college football and had little time to prepare himself for the challenges of the NFL.
"I don't want nobody to take it easy on me out here," he said. "I know I have a lot of work to do and if that's what's required, then definitely give it to me. I'm ready for it. I've heard of his coaching style. It wasn't until that day of the tryout that I was on the way up here with one of the scouting coaches and he was like, 'I want to let you know, coach Norton — he's no joke.' But you know what? I like that intensity. I like that style of coaching. If it's not right, tell me it's not right. And if it needs fixing, tell me it needs fixing and let's fix it together. We'll get it done. I appreciate it."
Banks didn't make the team, but he got back to work, and made the Atlanta Falcons' roster in April of 2013. When that triumph was announced, Banks recalled some of the feelings he went through while in prison.
"It's almost impossible to explain, the feeling of not having freedom, to be stripped away. 


"It's almost impossible to explain, the feeling of not having freedom, to be stripped away of your freedom, of your dignity, the respect you once had. To lose it all and watch the world pass you by as you sit inside a prison cell, knowing you shouldn't be there, knowing you're there because of another person's lies, to lose it all and then get it all back, it's a very humbling, spiritual feeling that you just don't want to take anything for granted.

"I've had the opportunity to see both sides of the human spirit. ... My journey has been crazy but my journey has been a learning experience that is unlike any other."
And Banks is a person unlike any other. I've had the opportunity (I should actually call it a privilege) to speak with him on multiple occasions, and I've always been struck by his incredible persistence and generosity of spirit. Somehow, he managed to wade through a decade of defeat unmarked by its seemingly inevitable aftereffects, and he's been an inspiration to everyone who's been around him.
"I feel like what I've been through these past 10 years shows that I have a determination factor of not giving up, of keeping hope in whatever it is that you want to accomplish in life that you can," Banks said last June, when asked what he can offer to teammates in a mental and emotional sense. "And I'm more than willing to be that person on any team that if someone is feeling down one day, or someone is feeling like giving up, or someone is feeling like they can't get to that next step in their life, I'm definitely there to talk to them and be that person of encouragement.
"At the same time, I feel like my situation is no different from anybody else's experiences. I always say, 'It's not what you go through, but how that experience affects you.'"
One can only hope that Wanetta Gibson gets what's coming to her, but is a more lasting and positive sense, it's good to see that Brian Banks has beaten the odds and seems to be getting what he truly deserves. He was unavailable for comment regarding the Gibson ruling, because he was too busy getting ready for training camp.
CAPTURED: AMERICA IN COLOR FROM 1939-1943
                                   aka
CAPTURE: AMERICA IN BLACK & WHITE FROM 1939-1943
 Young African-American boy Bayou Plantation             Boys fishing in Bayou Boy and girl building model plane
The person or persons who posted this photo exhibit let their true color shine through. This photo exhibit is a sad commentary of the times we once lived, the times we now live and how we see and judge each other.
I would better understand this photo exhibit if was posted in 1910 instead of 2010.  The racist description of the photos is unacceptable.  Especially, in 2010 when white folks are telling us how much progress we have made in America and we need to "Get over it?" 

A good example; read how 90% of the photos describe the children in the exhibit, blacks are described as African-American and white children as "Children!"  There is definitely something wrong with these pictures in this day and time.  We all should be offended black/white and if you are not offended you need to take a hard look in the mirrow!

I could go on and on for example; white folks are described as "Homesteaders" and blacks live on "Plantations!" One photo (23) shows white folks standing in line where food is being rationed-off during the depression but it is not called welfare, relief or food stamps, it is dressed up as "Distributing Surplus Commodities?" Progress not on my watch???  When I tried to make a comment about the exhibit the comment page was suddenly closed.  See link and you be the judge/http://extras.denverpost.com/archive/captured.asp
THE VIDEO DOES NOT LIE: 
PRESIDENT OBAMA'S GRADUATION ADDRESS TO MOREHOUSE GRADS WAS EXCELLENT!
President Obama makes a point to grads
This is another good example that you cannot believe everything you read, hear and see on Face Book and Twitter.  There were reports in media black/white that President Obama had talked down to the graduating class at Morehouse College last week.  Some even compared the speech to the one he gave to the Congressional Black Caucus during his first term in office, which I did find deplorable.  I felt this was something he could have saved for behind closed doors because there were some in the caucus group who needed a wake-up call (Marcia Fudge D-Ohio has said as much).

The 32 minutes he use to address the Morehouse graduating class was excellent and it needs to be said over and over again.  See link to YOU TUBE video below and you be the judge.

  http://www.whitehouse.gov/photos-and-video/video/2013/05/20/president-obama-delivers-morehouse-college-commencement-address       
SPORTS WRITER DICK HELLER:
60 YEARS & COUNTING!
He has watched several of DC's finest athletes  come up on the short end when it came to the powers-to-be giving credit where credit was due (including me). 
For example; DC public high school legend and NFL Green Bay Packer great Willie Wood is a Heller favorite.  He was left on the outside looking in while his teammates were being inducted into the NFL Hall of Fame.  Dick took the media lead in campaigning for Willie's induction.  In 1989 almost 20 years after his retirement he was finally inducted into the hollowed halls of the NFL Hall of Fame, thanks to Dick Heller. 
The story of media reach-back continued: 
Alexandria, Virginia native and Parker Gray High School basketball legend Earl Lloyd was all but forgotten for his pioneering efforts in the NBA.  Dick teamed up with NBA legendary Boston Celtic coach Red Auerbach.  They campaigned for Lloyd's overlooked induction into the NBA Hall of Fame.
It took 53 years after his NBA debut on October 31, 1950 before the NBA finally remembered Earl Lloyd.  He was inducted as a contributor in 2003. 
The Boston Celtics' Chuck Cooper was the first to sign an NBA contract but Earl was the first to play in a game.  He beat Chuck by one day!  Thanks again Dick Heller.
The beat goes on, DC Public high school legendary all-around athlete, Maury Wills (aka Sonny) revoluntionized the art of base stealing and changed the way Major League Baseball played the game from first base to home plate. His legs changed the game from power to speed.

In 1962 he actually ran the great Ty Cobb out of the record books.  Cobb was considered the King of the stolen base before Sonny entered baseball in 1959 after spending 8 years in the Dodger farm system. 
It was at Busch Stadium on September 23, 1962 that he stole his 97th base of the season.  He  shattered the major League record held by the immortal  Cobb.  The record had stood for 47 years."  
In a story written by Dick in the Washington Times in September of 2003 he said, "It was a game against the St. Louis Cardinals that I saw Maury running with the pitch from right hander Larry Jackson.  Catcher Carl Sawatski's hurried throw got past shortstop Dal Maxvill as he slid safety into second. 
According to Dick, "there was no great uproah compared with that of a year earlier when Roger Maris surpassed Babe Ruth's 1927 total of 60 home runs. 
Sonny was 26 years old in 1959 and he took the Dodgers from 7th place to first and won the World Series! 
The 8 years he spend in the Dodger farm system he became all that he could be.  He taught himself how to hit from both sides of the plate (switch hitter).  He stole 50 bases in 1960 and 35 in 1961, leading the National League both years.   1962 would be his breakout year. 

The eyes of baseball were on him and the Dodgers fans were wondering how many bases would he steal in the 62 season!  He finished the year with 104 stolen bases in 117 attempts.  This gave him a success rate of of 89% that shattered Cobb's record of 71% (96 of 135) in 1915.  His record has since been surpassed by former Cardinal great Lou Brock and the "How great I am" Ricky Henderson (twice).  But it was Sonny Wills who put the excitement and flash of the stolen base back into baseball after several decades where a total as low as 15 led the league (Dom DiMaggio in 1950). 
                      Dodger great Sonny Wills
After his great season (208 hits, .299 BA to go with his stolen base recod and a anemic $30,000 salary, he was looking for a hefty raise. 
Sonny said, "I went into (vice-president) Buzzi Bavasi's office looking to cash in and I came out 15 minutes later happy that I was still on the team.  Buzzie had an unfriendly way of negotiating, he finally gave me a $20,000 raise and told me not to tell anyone." 
Sonny Wills was from "Parkside" the same NE housing project I grew up in.  Confidence was not in short supply in the Wills' household. There were 12 other siblings and he was not even the best athlete or best baseball player in the family. 
I lived on Kenilworth Terrace and his family lived on Kenilworth Avenue one street over.  His father was a minister and he ran a tight but a close knit family ship.
Sonny is definitely one of the greatest all-around athletes to come out of the DC Public School system (Cardozo).   I admired  and looked up to him growing up.  He was a great running back in high school and played with the Stone Walls A. C. a top notch DC amateur football team.   My Spingarn high school coach Dave Brown would often arrange for us to scrimmage against the Stone Walls.  I had an opportunity to see Sonny up close and personal.  It was definitely men against boys!

His brother Donald (QB) and I (WR) were the touchdown combination at Spingarn HS.  Donald (aka Duck) and I decided to continue our education at Winston-Salem State University in North Carolina to play for the legendary coach, Bighouse Gaines.

In 1962 during Sonny's record breaking year I remember joining the Wills family on a bus trip to see the Dodgers take on the Philadelpia Phillies in Philly.  Donald and I had a plan to ask Sonny for some money to help support us in school.
We waited for him at the visitors exit after the game.  First, there were hugs and kisses with family and friends.  I don't remember how we got him by himself for a minute, but Donald did ask him for some money to help us in school.  He cried broke. 
He explained he was broke in the life style he was living and not really broke in our lifestyle.  I walked away in disbelief.
I now understand exactly where he was coming from after reading the story in Dick's column about how cheap the Dodgers were after his record breaking year and how he had to beg for a $20,000 raise.   
He did not forget us, he eventually send a $25,000 check down to Winston-Salem.  The check came from a sponsor of the MVP Award that he received for his record breaking year. 
The award came with strings attached.  The player receiving the award had to donate it to a non-profit organization. Enter; Winston-Salem State University.

The money went directly into the school's athletic fund, Bighouse gave Duck some money off the top.  

Sonny's stats and winning ways as a Dodger during a brilliant career screams "Hall of Fame!" The Dodgers won pennants in 63, 65 and 66.  They just missed in 1962 losing to the Giants in a play-off. 
There is no augument that he revoluntionized the game with his legs.  He changed the game from power (home run) to speed (stolen base).
He had a brief run with the Pirates before returning to finish his career with the Dodgers in 1972. 
Sonny Wills was a outspoken and stong-minded individual.  He was not always the most popular of players (sounds familiar).  He dated the cream of the crop, white hollywood stars like Doris Day, and anybody else he wanted.  He thumped his nose at the media when questioned about his life style.

His drug and alcohol abuse along with tabloid news about disputes with his son "Bump" Wills also a major league baseball player won't help. His fling with Doris Day and his Major League managerial record (26-56) with the Seattle Mariners, all of this will give the naysayers an excuse not to nominate for induction into the Baseball Hall of Fame. 
During his career Sonny found little reason to come back home accept for death in the family and sometimes he didn't make some of those funerals. 
He did comeback to have Banneker Baseball field located across the street from Howard University  named after him.  All this was around the same time Major League Baseball was returning to the Nation's Capitol.  He was searching for a job but there were no takers!
Dick Heller's campaign to get Sonny inducted into the Baseball Hall of Fame does not look promising, but I wonder what is keeping him out of the DC Sports Hall of Fame?  Could it be the same "Good Old Boy" attitude has spilled over into the local hall of fame? 
Sonny and I have not always seen eye to eye. There were times when I thought he was too selfish when it came to family and friends, but that has become a normal trait in our community. 
We went our separate ways when he forgot to call Dick Heller and thank him for the outstanding column written on his behalf.
Despite the mis-givings he deserves to be in the Baseball Hall of Fame.  He earned it the hard way---hard work!

Dick might just have to settle for two out of three (Wood and Lloyd).  Michael Wilbon was just inducted into the DC Sports Hall of Fame (for what?).  What is the criteria?  I would guess Tony Cornhiser and Chuck Brown are next up!
This type of "Blackballing" sounds like the 1800's when they tried to crucify the first black Heavyweight Champion of the world, Jack Johnson. 
The Poweres-To-Be came up with "The Mann Act."
This was a law drummed up by some racist stating "A black man could not transport white women across state lines for immoral purposes."
The more things change the more they stay the same.
                        The GREAT Jack Johnson
There have been recurring proposals to grant Johnson a posthumous presidential pardon.  A bill requesting President George W. Bush to pardon Johnson in 2008, was passed in the House, but failed to pass in the Senate. In April 2009, Senator John McCain, along with Representative Peter King, filmmaker Ken Burns (all white men) requesting a presidential pardon for Johnson from guess who, the first black President of the United States.
Barack Obama, President of all the people?  How can we as black folks bad mouth George W. Bush?

On July 29, 2009, Congress passed a resolution calling on President Obama to issue a pardon.
Remember, this is the same President who had a beer in the Rose Garden with a white racist Boston cop and recently took the time out with Tiger Woods to play a round of golf, but has not had time to sign off on a pardon for Jack Johnson.  Come on MANN!

What's the problem, is Johnson too black?  Yea, I know the "Race Card" but does it count when it is black on black crime?

Maury Povich, Bob Addie, Tom Callahan, Byron Rosen (Washington Post), *Mo Seigel (Washington Star/Times) were the cream of the crop when it comes to honesty, integrity and calling a spade a spade.  They were all great writers---Dick Heller belongs in that same class.
*Mo Seigel could sometimes be brutally honest
BLACK WHEN IT IS CONVENIENT:
TIGER WOODS DWB (DRIVING WHILE BLACK) ON A GOLF COURSE!
TIGER WOODS                                     SERGIO GARCIA

Sergio Garcia and fried chicken comment is much to do about nothing!
Tiger Woods is again the number one player in the world of golf and once again he must adjust to the excess baggage and Player Hating that goes along with it!  The player hating was obvious again in Europe where Sergio Garcia was playing in a tour function.  The media baited him into more controversy with Tiger Woods.
Remember it was just 2 weeks ago that Sergio was in a head to head battle with Tiger to win The Player's Championship but he choked. He hit his ball into the water on back to back holes and handed Tiger his 4th tour victory of the year.  During a press conference Tiger took the bait when was asked by a reporter about Sergio's demised in the third round.  Tiger said, "It looks like Sergio has found a new way to play golf----under water!"
These two guys have been feuding for years and I think it is nothing but professional jealosy on Sergio's part.  Tiger has been kicking his butt everytime they go head to head and I am sure that has not set to well with him.
In Europe Sergio saw an opportunity to get a laugh or two at the expense of Tiger.  When he took the bait of a reporter at a press conference during a tour luncheon.  The question posed to him was, "Will you be inviting Tiger over for dinner during the U. S. Open?"
Sergio said, "We'll have him 'round every night, we will serve fried chicken.''
"Fried chicken" references are associated with racial stereotypes of African-Americans.  A similar comment got Fuzzy Zoeller in trouble when Tiger became the first black to win the Masters in 1997.  When Zoeller was asked about the success of Tiger, he quipped "Tell him not to serve fried chicken, collar greens or whatever else they serve!"  He was referring to what would be served at the following year's champions' dinner, which Woods would host as defending champion.  The comment was heard world wide and if you know anything about Fuzzy, he is proud Good Old Boy and apology was not in his vocubulary.  It took some arm twisting by some close friends to make him apologize to Tiger for those racist remarks.
The love/hate relationship and verbal sparring between Tiger and Sergio continued this week after Woods tweeted back in response to comments made by Garcia.

Tiger tweeted: "The comment that was made wasn't silly. It was wrong, hurtful and clearly inappropriate.  I'm confident that there is real regret that the remark was made.  The Players ended nearly two weeks ago and it's long past time to move on and talk about golf."
It is evident there is no love lost between the two.  On Tuesday, Garcia was again asked about Woods in a news conference at Wentworth, host of the BMW PGA.
The back-and-forth between Garcia and Woods has continued long after the conclusion of the Players, where Woods won his fourth tournament of the year a day after Garcia complained about being distracted on the second hole by the world's top-ranked player, who was his playing partner that round. 
Their accounts of what happened later were disputed by different marshals on the hole, and neither player has backed down. On Monday, at a media day for the AT&T National in Washington, D.C., Woods was asked if he would reach out to Garcia to clear the air. Woods drew laughter when he simply said: "No.''
"I mean, you can't like everybody," Garcia said. "I think that there's people that you connect with and there's people that you don't. You know, it's pretty much as simple as that. I think that he doesn't need me in his life, I don't need him in mine, and let's move on and keep doing what we're doing.  I answered a question that was clearly made towards me as a joke with a silly remark, but in no way was the comment in a racist manner. 
He was asked when his issues with Woods began, Garcia said: "A while back.  It's never really been like a true connection like I would have maybe with Luke Donaldor Lee Westwood or Adam Scott or some of the other guys that I get along with well."
This where Garcia loses me, he claimed he did not remember Fuzzy's comments referring to fried chicken as it related to Tiger in 1997.  He said, "I was only 17 years old!"  Come on man!  Unless he had been declared deaf, dumb and blind, he was aware of everything golf in 1997.
I recently wrote a blog that there are some folks who don't know when they are being racist because they have never walked in a black man's or woman's shoes, but Sergio is not one of those people.  He new exactly what he was saying and if he thought that using the big N would not jeopadize his golfing career he would have used it! 
Tiger Woods does not get a free pass in this charade.  He is one of the biggest hypocrites in pro sports.  How can we forget it was just before his father Earl died he was on Ophra Winfred declaring he was Cablinasian and not black! But  now he wants to be black----black only when it is convient for him.  He claimed he was Cblinasian because he wanted to honor his mother who is Asian and honor his father who was black.  Which side was he honoring when he had a hoe at every stop on the golf tour while his wife and children where home waiting for his return?
Tiger has a lot in common many, many blacks who want to use the RACE CARD only when it benefits them.  In golfing terms, Sergio caught Tiger on a DWB (Driving While Black)! 
     Men of color who paved the way for Tiger and Sergio
MOMMY DON'T LET YOUR SONS GROW UP TO BE COWBOYS!
  
Use & Abused / All-Pro LB Reggie Williams No. 57 (Cinn Bengals) NFL Commissioner Roger Goodell and All-Pro DB Willie Wood No. 24 (GB Packers)
Willie Wood (1959-1971) and Reggie Williams (1976-1989) played pro football in two different eras, two different positions and on two different teams. They have one thing in common, injuries suffered playing the game they loved have comeback to haunt them.
A story in the NY Times Magazine in 2005 best described Willie Wood, "He was never the fastest defensive back on the field but was often the first to the ball."
The one sentence described his life growing up in NW Washington, DC.  He was never the fastest guy or biggest guy on the playing field.  But he played the game with the biggest heart and wanted the ball in his hands when the game was on the line.

As the QB of the Green Bay Packer defensive unit he
stood under six-feet and weighed only 175 pounds soaking wet. Despite his small statue he was one of the most feared hitters in the game.

"Next to Lombardi, Willie scares his own teammates more than anybody else does," Jerry Kramer wrote in "Instant Replay," his best selling diary of the Packers' 1967 season.

NEW YORK JETS: WHO'S ON FIRST (QB)!
Old guard: Mark Sanchez & Tim Tebow meet rookie Geno Smith
WHEN IS A DIRTY BALL PLAYER NOT A DIRTY BALL PLAYER?
I had a strange conversation with a friend the next day after the Kansas vs Michigan game.  He is an alumnus of Kansas and a media colleague. We were talking about the game and its outcome when I brought up the name Elijah Johnson. The Jayhawk player caught on video camera throwing a unnecessary punch to the groin of Michigan player Mitch McGary.  I suggested to him that Coach Bill Self distant himself from the player for the integrity of the team and school.
When he got through with me you would have thought I had said something about his mother! 
First, he told me he could not agree with my assessment of the player and there was no way that the coach should throw the young man under the bus. 
My thoughts were, Johnson is a 5th year senior and if the coach did not address the problem there may be parents out there watching and wondering do they teach those type of dirty tactics at Kansas?  If the player was a freshman I would use a different approach in dealing with him.
I have coached kids from some of the toughest playgrounds in the DC inner-city, and elementary to high school.  If I caught one of my players playing dirty they were pulled from the game immediately.
I tried to explain to my friend that if Johnson had done this once you can bet he had used that same dirty tactic somewhere in his basketball past.  This really pissed my friend off.  He said, "There is no way this kid had done this before because I have seen almost very game this year and there has never been a problem!" 
Come on man!
As an athlete I have played competitive sports since I was 10 years old (football, basketball and baseball).  It all started in a back alley in a housing project I grew up in and carried over into elementary school, middle school, high school, college and semi-pro.  I have sometimes been called a "Dirty Player" but nothing could be further from the truth. 
There were many times when I had to protect myself from a "Dirty Player" because of my size.  I think that is what led my friend Attorney Ken Price to call me 'Dirty Harold!' 
I would think I am better equiped to spot a Dirty Player long before my friend who has never worn a jock strap.  This looks like a case where he has allowed his loyalty to the school to get in the way of logic. 
When he said, "I don't care to discuss this matter any further" I was stunned, we have been friends for almost 40 years and I have never heard or seen him lose his cool like this.
The clincher to the conversation came when he said "You are always looking for something negative, "I knew it was time to hang up the telephone and we did. 
The only reason someone does not see NEGATIVE in my community and world is because their eyes are closed!
There lies the problem, today's children are having it their way and the adults are looking the other way!
The conversation made me think, was there something I was missing in the conversation?
I immediately called every basketball player and every Dirty Player I could think of (12 in all) to get their assessment of my telephone conversation.  Four of them had not seen the game and 8 of them had, but everyone agreed with my thought pattern. 
Ken Price was on that starting five that played for that great John Carroll High School basketball team. The other starters were, John Thompson, Tom Hoover, George Leftwich and Monk Malloy.  Ken is now living in California, I left a message for him to get back to me on this matter he can be brutally honest! 
I am flawed, but the one positive thing that I am, I am objective to a fault even when it comes to family and that is nothing to brag about.  I give them the benefit of the doubt but not before I let them know how wrong they were. 
Some of the biggest liars and cowards I know are in the media. 
In an interview with legendary boxing promoter Don King he said, "The media are some of the worst son of bitches on the face of the earth, but they are better than no media at all."
Their problem, they cannot tell the difference between Constructive Criticism and Destructive Criticism!   I missed judged my friend, who has always told me the truth until now.  The conversation reminded me of the courtroom scene with Jack Nicholas in "A Few Good Men."  He said to Tom Cruise, "You don't want to know the truth because you can't handle the truth!" 
My experiences in working with and coaching our youth is, if they learn to be a dirty young man they will eventually become a "Dirty Old Man."  Case closed.
Editor's Note: Please disregard the quote by Sam Newman.  He was speaking to me off the record and I apologize.
Your Comment: hkbell82@comcast.net
CAN OZZIE NEWSOME REBUILD THE RAVENS?
  
Two for the money: Ravens lose it offensive warrior WR Boldin to the 49ers and its defensive warrior and spirit LB Ray Lewis to ESPN 
Note Worthy:LineBackers Dannell Ellerbe and Paul Kruger leave Ravens for Miami and Cleveland respectively.  Ed Reed next to 49ers? The bottom-line, "Money honey if you want to get along with me!"


Prosecutors like emmitt davitt in short suppy but help is on the way!

Rep. Donna Edwards
In December 2012 my brother Earl K. Bell a resident at Patuxent River Rehab in Laurel, Md. signed Power of Attorney papers giving me permission to oversee his health needs at Patuxent River Rehab.  His 2 adult children had abandoned him.  Since their shameless act I agreed to take on the added responsibility for the simple reason, he is my brother. 
Earl Bell is a former U. S. Army Military Policeman (8 years) and a former cop on the DC Metropolitan Department (13 years).  A head-on automobile accident on his way to work ended his career in 1978. He was a Sgt at the time of his accident that left him paralyzed from the waist down.
He has been at Patuxent River Rehab for over 5 years. The staff has been rude and unprofessional during his entire stay. They have dropped him from a harness while trying to put him in a wheelchair that does not meet his physical needs.  They pretended that it never happen (cover-up).
I have spoken to the Administrator Jodie Dyer and her staff in the Rehabilitation Office as it related to his wheelchair. They claimed his insurance would not pay for a wheelchair and would only do so if he was out living outside of the facility? 
They are taking money from his police retirement, Army retirement, Social Security, etc.  I don't understand how is it that they cannot afford to get him a new wheelchair!
His "Wound Doctor" Dr. Ernest Scruggins has been playing a game of Russian roulette with the sores on his backside.  He changes his scheduled visits from weekly to bi-weekly whenever he sees it meets his needs.  He leaves residents like my brother in jeopardy of developing infections from his bed sores. 
It is a known fact that anyone whose mobility is hampered or who is confined to a bed or wheelchair is at risk of developing bed sores (also called pressure sore or decubitus ulcers).  These wounds are serious injuries that can lead to sepis, infection, and death.
To prevent bed sores, the nursing staff is responsible for regularly adjusting the position of residents to encourage adequate circulation.  According to experts, this is often not done.  Staff members often fail to take the time to adequately move residents.  They are mostly overworked and underpaid and they develop "I could care less attitudes."  I have personally witnessed these type of attitudes on my brother's unit. 
I have heard Dr. Sruggins remind the staff nurses (Mariann and Oloue) that they are to clean my brother's wounds.  These nurses allow residents to sit or lay in bed unattended for hours causing these serious sores to develop.  What makes matters worst the nursing staff lies to him about the status of his sores. They are telling him the sores are getting better.  He can't see or feel them but I can.  This is negligence and a criminal act!   
In November 2012 my brother did develop an infection and had to be isolated from the other residents.  He was moved from room 202 to room 301 on the unit where his friend Harry Horton and I witness the transfer.   They denied this ever happen also! 
What makes this so appalling is that Dr. Sruggins was outside of his room 4 days earlier and never bothered to examine his wounds. When I question why he was not examining my brother's wounds, he said "Your brother is going to the DC VA Hospital next week (November 11th) for an evaluation and I will examine his wounds then.  I want the report to be fresh."   Four days later I was called and told that my brother had developed an infection---once again an act of negligence.
Journalist Jackie Jones in an interview with Ombudsman Ms. Alice Hedt was told that an Ombudsman from her office had visited my brother.  The Ombudsman found him in good spirits and he was never isolated from the other residents---another lie.
In a visit with Ms. Jones on Thursday March 7, 2013 I recorded a video tape interview with my brother and Ms. Jones.  This marked the first time he had been out of his bed in 2 weeks.
I have alerted the local politicians, Steny Hoyer, Ben Cardin and Donna Edwards.  They are so busy passing the buck from one to the other you would think they were in a relay race in a Track & Field meet!  The senior citizen vote continues to be the most loyal vote in politics, hopefully they will remember to forget Hoyer, Cardin and Edwards at the polls next time around.
Evidently, Jodie Dyer and Corporate VP John Spadaro think they are immune and can get away with this type of abuse and negligence.  Their act on Wed February 6, 2013 made me realize what a really dangerous place Patuxent River Rehab really is not only for my brother but for the entire residential population.
During a mandatory "Family Meeting" on Feb 6th a meeting that should be held monthly (the last one for Earl was October 2012). Conducting the meeting was a Social Worker I had never seen before.  She brought to my attention for the very first time, "Patuxent River Rehab had declared Earl K. Bell incompetent."  By the way the Social Work Office in Patuxent River Rehab has become an office of 'Musical Chairs.'
First, there was Crystal King, who told me in 2012 she didn't go to college to get a Master's Degree to have me question her about her duties as a Social Worker.  She has since disappeared!  Following her would be Diane Wilson who didn't seem to have a clue.  In the last "Family Meeting" in October 2012 Ms. Wilson made it clear to me that if I kept being augmented (I was trying to get some questions answered about the cover-up of the staff dropping my brother) she was going to cease having Family Meetings for my brother.  She was true to her word another meeting was not held until Feb 6, 2013.
On Feb 6, 2013 she was a no-show and the news that my brother had been declared "Incompetent" was delivered by a NO-NAME who had been assigned the duties once held by Ms. King and Ms. Wilson.
What this state needs is another courageous prosecutor like Emmet Davitt who is not scared of these corrupt politicians and greedy nursing home administrators.  While elected state's attorneys and the attorney general pass the buck he follows the bouncing ball that leads to corrupt politicians who think they have a license to steal from its constituents.  Mr. Davitt recently took down powerful Anne Arundle County Executive John R. Leopold.
Pat Carter in the PG County Office of the Aging and Alice Hedt in the Ombudsman's Office are all frauds and major players in this shameless charade of nursing home abuse.
There is little doubt that the paper work and the doctor that they claimed was used to declare my brother incompetent are all a part of this
fraudulent act.  They back tracked the paperwork to make my Power of Attorney (health) null and void.  I have yet to see the paperwork!
The nursing home staff and administrators have left a trail of fraud and negligence that Ray Charles could follow.  Family members and friends of nursing home residents are now calling me with other incidents of abuse in the facility.
I have since videotaped my brother in a conversation with witnesses proving he is anything but incompetent!  I have advised him not to take any medicine he is not familiar with.  I don't put anything pass this staff. 
I have asked several of his police buddies to check on him on the weekends and let me know if they notice any change in his behavior.  I watched my brother beat prostate cancer, colon cancer, racism and he now  fights for his life in a nursing home that has anything but his best interest at heart.  But it ain't over until God says "It is over!"  God does not like ugly.
I agree with Dr. Ben Carson when he asked "Whatever happened to common sense?"  Dr. Carson, I think the NEW COMMON SENSE is now spelled 'DOLLARS & CENTS' all in the name of the GREEDY!
http://bmia.wordpress.com/2013/02/13/shame-on-america-nursing-home-abuse/#comment-94341
                                                      
MIKE WISE: THE BEST & WORST IN SPORTS MEDIA:
FOOLS RUSH IN: MEET DAVID FALK & ADRIAN DANTLEY!
     
   Adrian Dantley
There are times when I read a column written by sports columnist Mike Wise of the Washington Post I will say to myself "How in the hell did he ever get a job writing sports?"  Then there are times when he will rebound and write a brilliant column and I would say, 'OK.'
When he would write a great column I would e-mail him and say "Great column."  If his next column stunk up the sport's page, I would also make those feelings known.  There are those in this industry that still don't know the difference between Constructive Criticism and Destructive Criticism, especially, at the Washington Post and that includes my old friend Donald Graham. I have written free lance columns for the Washington Post in the past. 
This brings to mind sports television "Know it all" ESPN and NBC analyst Michael Wilbon.  When Michael first came to town fresh out of North Western University I took him under my wing and made sure I steered him clear of the frauds in DC.  The town was and still is overrun with frauds, bigger and a whole lot worst.  It was a tough job but someone had to do it.  Its make me wonder how do you measure success in this Game Called Life---it must be money because everyone is trying to steal some! 

I will never forget when Michael and I were sitting in The Green Room at Howard University waiting to do a television talk show to discuss the Washington Football team (I am trying to break the habit of calling them Redskins) with host Kojo Nmune.  He broke down to the point of tears and confessed that Sports Edit George Solomon would stand behind him and look over his shoulder and change his column.  He said, "This disrupts my train of thought and he never does that to Tony Cornheiser."
I now have a problem believing anything that comes out of his mouth because I know how he got to where he is now, he went along to get a long.  If he let Solomon change his column at the Washington Post, he surely does not have the last word at ESPN or NBC! Between him and Magic Johnson you don't know who to believe.  I will take Charles Barkley everytime!
                               Michael Wilbon & HBell
I could see and read Michael was headed for bigger and better things in this industry.  I suggested that he look for another job!  I didn't think that would be a problem with his credentials.  What did I know and when did I know it, evidently never?  Michael stuck it out and now he is at the top of his game.  There are his gigs with ESPN, NBC/Sunday NBA, caddy for Charles Barkley, etc.  According to his good friend and former Washington Post colleague John Feinstein, "Michael Wilbon is the biggest ass kisser in sports media."

The Washington Post down through the years has hired some of the best and worst sports writers in the history of the newspaper industry. The best being Shirley Povich (a true gentleman and a class act), followed by Bob Addie, Tom Callahan and Byron Rosen.  The worst, there is not enough space or time on this page to mention them all. 
How can I forget sports writer Leonard Sharpiro, the George Solomon Go-Fer in the newsroom.  Sharpiro decided to write a book titled "The Real John Thompson."  He called me to schedule an appearance to be on my talk show.
The Original Inside Sports was the number 1 sports talk show in town in the 70s and 80s.  The show was aired on an AM Gospel station and had a direct pipeline to the black community.  This was the market Sharpiro was hoping to sell his book. I read the promotional copy to help prepare me for the show and I could not wait to get him in the studio.  The book was so bad instead of giving him the whole hour to promote the book I only gave him 30 minutes.  
My first question to Sharpiro was, "How could this book be titled The Real John Thompson and you never interviewed him, his family, friends or me?"  It was all down hill from there.  He pretended he had to go to the bathroom during a commercial break and never returned to the studio.  Today I am still trying to find someone in the black community who brought the book.  
With Mike Wise I sometimes think that he means well but he is so caught up in the BS you never know which one is going to show up for work.  His AA afiliation may have a lot to do with his present status.
For example; In 2011 I wrote a blog in response to Fox News' sports writer Jayson Whitlock's claim that Georgetown Coach John Thompson was responsible for the success of the hiring of black coaches.
My blog response was found on the CBS own Bleacher Report.  The blog received over 33,000 hits in 3 days.
http://bleacherreport.com/articles/658973-will-the-real-john-thompson-stand-up-for-jason-whitlock
Suddenly, everyone wants to talk to me about The Real John Thompson.  Wise called to ask me if I would be a guest on his sports talk show aired on CBS own The Fan.  I said, "Yes" I didn't know his format, I don't listen to sports talk radio anymore. The reason, the airwaves are overrun with experts who don't have a clue.  
I thought Wise had a clue, my bad!  
The media radio and television AA membership is through the roof.  The alcoholics and pipe smokers are in high demand because the control factor is always there.  The folks who control "The Glass Ceiling" know exactly who they are.
The ones who are not on drugs have serious ego problems, which brings me back to Mike Wise and David Falk.  Falk is as rich as all get out and it all started with his connection with one of the biggest frauds in sports media, Georgetown Coach John Thompson Jr. Their Under the Table financial dealings started at Georgetown University.  This rip-off made them both rich and dirty old men.
John Thompson's whole career has been one big lie; starting with the sign painted in the gym "John Thompson the nigger flop must go, Nike, the Rayford Edmonds' encounter, tough guy image, NBA career, civil rights advocate, family man, departure from 980 ESPN radio!"
The one truth, he made sure David Falk had exclusive access to all the Georgetown superstars selected in the NBA draft.
They included Pat Ewing, Alonzo Mourning, Dikembe Mutombo, and Sleepy Floyd, among others. Big John received a kick back from Falk on each NBA contract negotiated by him.  Thanks to Big John, Falk went on to become one of the most powerful sports agents in the country. 

Big John's players and their families were under strict orders not to talk to any other agents.  All interested agents were to be referred directly to him.
I remember when Falk was nothing but a white boy hanging out around my celebrity tennis tournaments and fashion shows trying to make a connection.
The unholy alignance with Big John allowed Falk access to NBA players like John Lucas whose drug abuse was legendary.  Falk paid John's bills and made sure he had enough money to support his drug habit. There was also the big pay-off with the NBA's money making advertising machine, Michael Jordan. It is hard to imagine how much money he took from MJ! 
This story reminds me of another not to bright athlete. His agent ripped him off and retired just before one his biggest fights against Hector Comacho. 
The similarity, the athlete had made so much money the agent could not steal it all and the athlete could not snort it all up his nose.  Now that is a whole lot of money! 

The exposure of the Falk rip-offs all started when a UPS Driver asked me to pull over at a red light on Connecticut Ave. in downtown DC one evening. 
He helped me to pull the cover off of David Falk's financial rip-off of one of his clients---NBA superstar Adrian Dantley.  The driver had a friend who worked in the office of Falk.  She watched him cipher monies out Adrian's account into his own. 
Adrian was out of the country at the time so I contacted his mother (Carolyn) and I told her the story.  She refused to believe that Falk would take Adrian's money without his knowing it.  Further more she said, "David was the Godfather of Adrian's first child.  He would never do something like that!"  This is another example of the white man's ice being colder.

To make a long story short Adrian's wife (attorney) was told of my findings and she took the initiative and had an audit on Falks' books. 
Bingo!  The findings, several million dollars were missing.  Falk was sued by Adrian for the missing monies and won.
Since it was a "White Collar Crime" (I wonder how it got that name?) there is a gag order saying neither party can discuss the outcome of the case.  Come on man!
Which means that Falk gets a FREE pass to continue to rip off pro athletes.
Adrian has yet to say a word to me about Falk or his missing monies.  Just before he was given his walking papers I spoke to him in the visitor's lockerroom in the Verizon Center.  It was his last trip to DC as a coach in Denver.  I asked him how was it that Falk was allowed to steal several million dollars from him and he was still representing NBA players?  His response blew me away he said, "I can't blame David for all that went on, Donald Dell his partner has to share some of the blame." 
My next question was "When is a thief not a thief?" He just looked at me.  I turned and headed for the exit. 
In the meantime, Falk is allowed in lockerrooms around the league looking for his next victim!  In a recent Washington Post story written by Mike Wise, Falk gives his two-cents on "The State of the Union on the Washington Wizards."
The late Wizard owner Abe Polin could not stand the sight of David Falk.  Mr. Polin once told one the ushers after seeing Falk in the arena "Get the spray there is a skunk among us."
When Michael Jordan signed on with the Wizards Falk had nothing to do with the negotiations.  Mr. Polin put both of them in a trick. 
On May 7, 2003, he fired Jordan as Washington's President of Basketball Operations.  Jordan later stated that he felt betrayed, and that if he known he would be fired upon retiring he never would have come back to play for the Wizards.  There was no signed contract only a handshake and you can't rely only on a handshake with a shrewed businessman like Abe Polin.
I don't think Mr. Polin ever forgot the disrespect Michael displayed toward him during the players strike in 1998-99 season.  During an exchanged in a meeting to try to resolve the strike Mr. Polin was making a point when Michael interupted and said, "Old man if you can't stand the heat get out of the kitchen." It was the old man who got the last laugh. On a bright sun shiny day in May it was Michael last seen in his red convertible Mercedes getting out of DC never looking back! 
Falk needing some attention last week ripped the Wizards' organization from top to bottom starting with the owner Ted Leonis, GM Ernie Grumfield to star player, John Wall. I have heard nothing but good things about  Ted Leonis, GM Grumfield stays out of everybody's way, John Wall seems to be a model citizen (compared to Gilbert Arenas) and the Wizards seem to have their mojo back with Wall in the starting line-up. 
Evidently, since Falk sold his company he is now lonelier and richer, but he misses the spotlight shinning directly on his bald head!  
My question to Mike Wise, "Why would you just expose a part of the David Falk charade and leave out the ripping off of NBA players like Adrian Dantley, its on the record?"  Checkout The Freedom of Information Act.  My advice, if you are going to tell the story, tell the whole story!

 SETH MITCHELL'S LUCKY BREAK:
LAST DANCE IN ATLANTIC CITY POSTPONED!
LAMONT FOSTER LAYS IT ALL ON THE LINE WITH KENDALL HOLT IN DC FRIDAY FEBURARY 22ND!!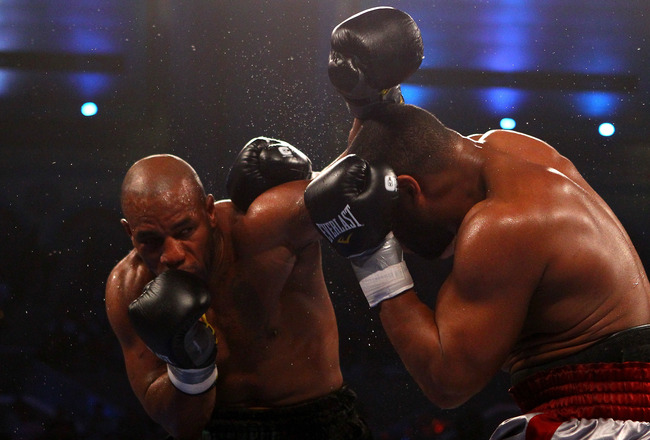 Seth Mitchell is all set to put his Michigan degree to work for him after his next meeting with Johnathon Banks. Banks is all smiles
One time heavyweight contender (25-1-1) Seth Mitchell's nick name is "Mayhem!" The definition of the word according to Webster Seventh New Collegiate dictionary, A: "Willfull and permanent deprivation of a bodily member resulting in the impairment of a person's fighting ability. B: Willful and permanent crippling, multiation, or disfigurement of any part of the body.
In Atlantic City on November 17, 2012 heavyweight contender Johnathon Banks (29-1-1) committed mayhem on Seth Mitchell. His brutal TKO in the second round killed Seth's hopes of meeting one of the Russian Klitschko brothers, Vitali or Wladimir for the heavyweight championship.  Seth went into this fight a heavy favorite to beat Banks and I was stunned when Banks destroyed him in 2 rounds.  I kept hearing the whispers from boxing insiders that this was not a good fight for Seth to take.  Banks was out of the Klitschko camp (via Kronk Gym) and was trained under the watchful eye of the late Emanuel Steward.  Emanuel's sudden death didn't help Seth's chances, Banks entered the ring with a heavy heart and it was "Win this one for Emanuel!" 
I didn't have a clue about Seth's chances of winning I paid no attention to the rumors of "Mis-match" I chalked it all off to 'Player Hating' which is common and plentiful in the fight game.  I got caught up rooting for the local "Homeboy" whose rise in the boxing world I found to be a good hometown story---a heavyweight with a college degree.  There has not been a great boxing story out of DC since the rise and fall of Sugar Ray Leonard.
I even tried to overlook the inexperience surrounding him in his camp from his manager, trainer and PR person (they had no pro boxing history).  There were games being played that they didn't think I recognized. I just brushed them aside as a sign of insecurity another well known commodity in the world of sports. 
When you have been to the Mountain Top with "The Greatest"Muhammad Ali and had to match wits with the greatest boxing promoter and con artist of all time---Don King, these guys don't even light up the picture!
           
                  The Greatest, Pat, HB

The re-match with Banks was scheduled for Atlantic City this weekend but Banks broke his thump while sparring and Seth was given a stay of execution until sometime this spring.
 Then there is the other local, Lamont Peterson (30-1-1), talking about being on the HOT SEAT and on a merry-go-round!  He is finally set to defend the title he took from Britain's Amir Khan in a controversial fight 14 months ago at the DC Convention Center.  Lamont says his long layoff will not be a problem against Kendall Holt on Saturday night at the DC Armory.  He has the same problems in his camp that Seth has in his, ego, inexperence, etc. 
Lamont won a controversial split decision over Khan after the Englishman was twice penalized a point for pushing.  Many call it "A HOMETOWN DECISION."  My thoughts, if you decide to visit another man's home and sit down to eat you should expect some home cooking. 
     
        Lamont Foster takes it to Khan last year in DC title fight
A planned rematch with Khan last May was called off after Lamont tested positive for a synthetic testosterone a ban substance in boxing.  Lamont needs a win to keep boxing hopes alive in DC, it looks like Seth Mitchell is D. O. A or Dead Man Walking until his next fight with Banks.  He is a nice young man but it is the blind leading the blind!
I would not mind being wrong on this one, but the odds and the boxing gods are against him.

          THE GOOD, BAD AND UGLY NFL STYLE
               
                               Roger Goodell          

Some times it makes on lookers and insiders wonder why would anyone in their right mind want to be President of the United States and why would anyone want to be the Commissioner of the National Football League.  The positions are two of the most demanding and scructized jobs in America. 
President Obama has been called a liar, citizenship questioned, a traitor to black America, and out his name so much in the past 4 years you wonder why he has not told the country to "Take this job and shove it!"  Commissioner Goodell's job has been just as tough. He has to endure 3 of the greatest players in the NFL say things about him that should be rated PG 13 on network and cable television.
James Harrison the anchor of the Steeler defense said "He is a crook and If I saw that man was on fire and I had to piss to put him out , I would not do it."
Harrison's Steeler teammate the popular defensive back and headhunter Troy Polamalu, said, "It's football, you know. If people want to watch soccer then they can watch soccer.  But, honestly, overseas when people are attracted to this game, they're going to see the big hits, they're not going to care about touchdowns and different things. So you're also taking apart what attracts people to this game"  But, you know, he's got all the power; that may be part of the problem, that there needs to be some type of separation of power like our government. There should be some type of players involved in decisions over how much people should be fined or what they should be fined for, as well as coaches, as well as front office people."
"MVP QB Drew Brees said, "He has no credibility among the players and lacks accountability from the top down, also, I feel like, in large part, this bounty scandal, so to speak, is a facade and a way to cover up the shortcomings of the league and the commissioner with regards to player health and safety over the last three years."
You wonder how could this be as we head into Super Bowl XLVll, the game is off the charts as the most popular team sport in America (possibility the world).  This year's participanting teams might end up with the highest viewer rating ever. The game from where I am sitting is a toss-up (I am homer/cheerleader for Ravens).
The story lines are many; First, the brothers John and Jim Harbaugh head coaches of the two participating teams.  They are the first ever brotherly coaches to go head to head in a Super Bowl.  Their parents Jack and Jackie are getting as much media attention as they are.  There has also been some unwanted attention because of a reported story released in Sports lllustrated. The magazine's cover screamed "Ray Lewis used a banned substance during rehab for his torn triceps."  The substance, deer antler spray.  Ray denied the use of the substance and tried to move on.   
He got some help that diverted the attention from him to San Francisco defensive back Chris Culliver. He put his foot in his mouth when he allowed a comedian/reporter who was evidently looking for controversy and had no trouble finding it, Culliver was ready, able and willing.  When the dust had cleared Calliver was apologizing for anti-gay comments he made.
In the interview with the comedia/reporter he said, "I would not welcome a gay player in the locker room.  We don't have any gay players and if we did they should leave, none of that sweet stuff for me." 
This is another example of where it is best to be thought a fool than to open one's mouth and remove all doubt!
Needless to say once the comedia/reporter released the interview all hell broke loose.  This brother was really stupid, he lives and works in one of the most influential gay communities in America, San Francisco.
The 49ers didn't have to put a gun to his head for him to make an apology.  Culliver backed up and acted like the late No. 1 soul singer James Brown and said, "I would welcome a gay teammate to the 49ers, I treat everyone equal.  That is not how I feel.  I love San Francisco!"  He made crooner Tony Bennett proud (I left My Heart In San Francisco). 
The issues facing the Commissioner are sometimes difficult to keep up with, there are many;
Let me say right from the beginning I want to quote NBA pioneer Spencer Haywood, he once said to me in an interview on Inside Sports "If a child has to look beyond his dinner table for his heroes, he is in trouble."
Roger Goodell never had to look beyond his dinning room table for his hero.  His father the late Senator Charles Goodell ocuppied the seat.  Senator Goodell was a man of integrity, honesty and a man of great character.  This information did not come out of the Commissioner's office in a press release.  I learned this information from my childhood friend, Eldridge "Sackie" Lee.   
Sackie and I grew up in a housing project in NE DC several doors from each other.  We both were the products of single parent homes with great moms. 
Our career paths after college would lead us both to the DC Recreation Department.  It was ironic because the playgrounds were our safe havens growing up in the projects.  He had assignments working as a Director at several different Rec Centers in the DC area.  One those centers would be Rose Park in NW.  I would become a Roving Leader in the department working with youth gangs around the city.  We seldom crossed paths because his Rec Center Rose Park in Georgetown did not have a gang problem.
One of the young men to frequent his Rec Center would be Roger Goodell.  He was an outstanding baseball player and all around athlete.  Roger came from a very close knit family accoding to Sackie.  His father and mother attended rec center games and they made sure the center was fully equit to enhance the growth of young Roger and his teammates.  The parents never interferred and stayed behind the scenes and watched quietly as their son matured into a great all-around athlete. "I knew he was going places and the NFL was always a possibility but I thought it would be as player" said Sackie.
Goodell verses the players, I think the commissioner is a man who has the best interest of the league at heart but he is in over his head. The reason, the problem was already there before he arrived as the number one man.  He is being sued by over 4,000 players plus 1,500 spouses and their children and the list is growing.
It was not his fault that the owners and previous commissioners deliberately ignored and actively concealed information about concussions for decades.  There is an old saying "If you want to play you have got to pay."  The payout could be devastating to the league.
There are many experts who think that this law suit could lead to the downfall of the league.  In the meantime, the NFL is trying to get the case thrown out of court.  There is little or no chance of that happening.
There is also the problem of equal opportunity and cries of racism raising it ugly head on the field and in the front office again.  The Rooney Rule has been a hot topic of conversation after a hiring cycle that included no minority hires among the 15 new head coaches and general managers this off season.  The Plantation Mentality has resurfaced among the owners and the Powers-To-Be (all mighty dollar)!
During his state of the league news conference on Friday before the big game, Commissioner Goodell said "the results and hiring practices are not acceptable.  The Rooney Rule has been very effective, we have to look to see what the next generation is. We have to take it to another level.  The league is committed to finding an answer that will allow the league's talent to excel. There will be many conversations to this end.  We want to make sure we have the best people in the best possible positions.  We didn't have the outcomes we wanted.  There must be full diversty it is important to the future of the league." 
The late soul singer Sam Cook could not have said better himself, "A Change is Coming!"
This is where it gets tricky because the Commissioner is addressing directly the people who signs his check, the owners.  Racism in America has always been a tricky problem to tackle in the NFL and other pro sports. 
I remember it was just over a decade ago there were no blacks to be seen in the front office but a cleaning crew on the weekends!  The hiring of the Raven's Ozzie Newsome by owner Art Modell made other NFL bosses  look in the mirrow. But it looks like all good things come to an end.
The players seem to have forgotten that most of this progress in Equal Opportunity in the hiring practices of the NFL has all come on the watch of Roger Goodell.
Then there are his problems with player lockout, concussions, Bounty Gate, suspenions overturned, referee lockout, and the lawsuits pendin may overshdow all the good he has done for the future of the league.
This is not your Jim Brown or Sam Huff NFL (I cannot believe I just said that) the players are bigger, stronger and faster. I have often wondered how NFL QBs like Bobby Layne (Pittsburg) and Johnny Unitas (Baltimore) played without a face mask their entire careers?
NFL players are the NASCARS of pro football waiting for a head-on crash. The only difference, in NASCAR these well oiled machines are all going in the same direction.  In the NFL the well oiled machines are headed in the opposite direction.  There are no caution flags to slow down and prevent helmet to helmet crashes. A Crash is going to happen on any "Given Sunday, Monday, Thursday and some times on Saturday!" 
I don't think we should wait for someone to die on the field of play to say "Enough is enough!"
American sports' fans (men and women) love violence as long as it is not happening to them.  More women are watching the NFL than ever.
I don't agree with Commissioner Goodell's idea of extending the schedule to 18 games.  It will only create another health hazzard.  Eliminating kick-off returns will help kill the game.  The kick-off is American as "Apple Pie!"  In NASCAR "Its start your engines" in pro foot its the Kick-Off that signals the start of the games.
I believe Commission Goodell loves and wants to save pro football but in this case you cannot have your cake and eat it to!
Ed Reed the All-Pro safety of the Baltimore Raven's said it best when describing the feelings of most of the players, "This what we signed up for." 
What he meant was "The Good, Bad and the Ugly!"
    NEW SHERIFF IN TOWN!
       Ohio's Finest / 21st District: Marcia Fudge and Lou Stokes 
U. S. REPRESENTATIVE MARCIA FUDGE:
Chairwoman Marcia Fudge of the Black Congressional Caucus says, "My colleagues don' think there is poverty in America.  They are crazy, nuts, evil and nasty people. They wanted to cut $16.5 billion from the food stamp program.  I have never seen anything like them!"

"THERE COMES A TIME WHEN SILENCE IS BETRAYAL" 
                                            author Rev. Martin Luther King


During Barack Obama's run for President in 2008 Tavis Smiley and his commentaries were a fixture on the Tom Joyner Morning Show heard in over 100 markets.  Tavis abruptly quit the show which seem to come as a surprise to Tom and his morning show staff.
On April 11, 2008, Tavis Smiley announced that he would resign in June 2008 as a commentator. He cited fatigue and a busy schedule in a personal call to Joyner.
However, Joyner, referred to several commentaries in which Smiley was critical of then Democratic presidential candidate Barack Obama, indicated otherwise on his program, stating: "The real reason is that he can't take the hate he's been getting regarding the Barack issue—hate from the black people that he loves so much." Prior to the public controversy and being elected President, Obama had been on Smiley's PBS show several times.
In the 2008 Presidential campaign Tavis invited then Presidential canidate Barack Obama to participate in one of his forums but Barack send Michelle in his place.
Tavis took Barack's absent as a slight and many claim he still has not gotten over it!  I have always thought if a man sends his wife to represent him it is a sign of respect for the person in charge.

During his first term as President, Barack Obama was giving anyone and almost everyone in black media an interview (except Tavis).  Blacks in media seem to have carte blanch to President Obama and the First Lady Michelle (genius PR move).  He became "The Darling" of black media.
This was unheard in the White House press corp before a black President occupied the White House. 

The backlash from Tavis bashing the FIRST black President was some times real ugly during the first term.
Tavis said on more than one occassion that the President didn't care about black people or the poor and down trodden. It didn't play too well in the black community, but since that time some opinions have changed in favor of Tavis.
On October 1, 2010, Tavis Smiley turned the second hour of his PRI program into Smiley & West co-hosted by his longtime friend and advisor Dr. Cornel West.
Congress Lou Stokes (D-Ohio), his 21st Ohio District extended to blacks everywhere.
Tavis was in Washington, DC on Thursday January17, 2013 hosting a forum titled, "Vision for a New America: A Future without Poverty" at George Washington University. Let me say for the "Record" good luck! 
The panel was made of Author Jeffery Sachs (Columbia University), former Speaker of the House Newt Gingrich, Author Johnathan Cole, Mary Ann Chilton (Drexel University), Rose Ann Democo (National Nurses United), Author John Kozol,U. S. Rep Marcia Fudge, John Gramm (Indiana University) and the brilliant Professor Cornell West (Union Theological Seminary).
One member of the panel described the perils of poverty best when they said "There is a highway into poverty but there is no sidewalk out!"
The most compelling personality on the panel and the most courageous was Congressional Black Caucus   Chairwoman Marcia Fudge.  She brought to mind, the late Congresswomen Shirley Chisolm (D-NY) and the eloquent and powerful speaker Barbara Jordan (D-Texas).  Their courage had no boundaries when it came to leading by example and speaking out against the injustices of a system that was suppose to be serving its people.
During the discussion Ms. Fudge said, "There are people working the House of Representatives who don't believe there is poverty in America.  I just left a retreat with my colleagues of the Congressional Black Caucus.  These are the craziest people I have ever seen, we are dealing with a bunch of nuts who are evil and nasty and don't care about anyone but themselves!"
These same colleagues voted to cut 16.5 million dollars in food stamps.  We are sending people to Congress who do not understand what their job is and do not understand that they are there to represent the people.
           Donna Edwards does not understand her role.
Ms Fudge made it perfectly clear from the very beginning "I am not owned by anybody. No corporations or anyone."
For example; When Tavis reminded her there was tension between the Black Caucus and the White House during the President's first term. He said, "There was a time when the President would not even meet with you." She admitted there was some tension but reminded him that her job was different from the President of the United States. 
Ms. Fudge did not allow Tavis during the forum to make her a part of the bashing of the President. 
She pointed out that The FISCAL CLIFF is nothing but "Smoke & Mirrows." It is just a cover-up for the debt that we owe for two wars, Bush tax cuts and Medicain part D, it is all a game.
Ms. Fudge also said, "Democrats have given up on poverty and that is no  no different from giving up on the gun issue.  When you don't have the answers you give up!"
She then pointed to the legislation that the President had passed to help the poor and downtrodden. 
There were two major pieces of legislation, Obamacare significantly helps poor people.  In the Stimilus, there was more money put into headstart than ever before, Pell Grants were increased, unemployment was extended, more money was put into poor schools, two billion dollars was put into food stamps. I am not saying it was enough but let us put all the facts on the table." 
We are in a state of emergency our children are not only dying in our streets (Chicago) but they are dying in our classrooms (Newtown)!  Senior Citizens are dying in our nursing home across this country but no one seems to care. 
"The rule of money makes everybody and everything up for sale.  There is a culture of fear where folks are scare of the TRUTH.
They are scare of losing their jobs, losing their status, scare of not being invited to the White House or the next Tea Party.  There is a shameless silence in this country.  It is the rule of money that has this country so corrupted (former N. O. Mayor Ray Nagel the latest crook).  There can be no integrity or trust when there is the rule of money.   
Government can be corrupt and repressive against the people they are suppose to be helping. We must stop the silence, call your congressman and voice your displeasure.  Until they see hungry babies or homeless---they are not going to believe it" said Ms. Fudge. 
It looks and sounds like the New Sheriff is looking and asking for our help.
Former Speaker of the House Newt Gingrich without a doubt came up with a proposal and suggestion that just might help turn this country around.
He suggested to Caucus Chair Fudge that he would recruit Republican politicians to volunteer to spend 3 days each with a Democratic politician in their voting districts and vice-versa.
Her response, "You make it happen and I am in."
I am thinking that would be a feat that you could compare with getting the Jewish Community to double date with the Palestinian Community!  The Nobel Peace Prize would definitely be a possibility for both Newt and Ms. Fudge. 
NFL: YEAR OF THE BLACK QB!
 Seattle Seahawk Russell Wilson and SF 49er Colin Kaepernick QBs on the run


In 1968 Marlin Briscoe became the first black modern day starting QB for the Denver Broncos.  Since that time  the NFL has been playing catch up with the NBA and finally discovering that black men cannot only jump but they can also coach and play quarterback.  I am almost to the point where I am not surprised to see a black QB under the center calling the signals in an NFL game---I said almost.  I am not going to write this blog and tell you "I am color blind" and I don't see color in sports or in this Game Called Life--I do! 
This year alone there were so many black QBs I could not keep count.  There was Josh Freeman in Tampa Bay, in Pittsburg when big Ben Roethlisberger went down with and injury, two black QBs started in his place, veterans Byron Leftwich and Charlie Batch (black coach on board).  The NFL has even fast-forwarded and are allowing black QBs to sit on the bench and wait for an opportunity to play.  Now that is what you can call progress!  Now the equal opportunity attitude needs to be transferred up to "The Big House" meaning owership.
The "PLANTATION MENTALITY" is still evident in the 3 major sports where black men are working (or being used)!  Professional sports are still the highest form of explortation in America only second to Capitol Hill.
Who would have ever thought that a Russian would own an NBA team while other qualified black men stood by and watched?  Michael Jordan does not count in this conversation, he brought damaged goods from another brother who was suspect (Bob Johnson).  Wizards' owner Abe Polin set a trap for Jordan when he brought him into the organization to run basketball operations.  Mr. Polin than fired him after he started to smell himself!
When Mr. Polin fired him, he cried "Foul."  Michael claimed they had a handshake and he could not be fired!  He should have known better as many times as he has shook someone's hand and never kept his word.  What goes around comes around!
The talk of the NFL season were the rookie QBs, Robert Griffin lll (aka RG lll) of the Washington Redskins (Heisman Trophy) and Russell Wilson in Seattle.  I am not over looking Indianapolis Colts QB Andrew Luck and his great rookie season, but I am talking black QBs which was once as rare as a black man being President of the United States.

During the NFL "Wild Card Weekend" it was WILD to put it mildly.  For the first time in the history of the league 2 black QBs would face each other in a play-off game, Griffin and Wilson.  Seattle would fall behind 14-0 in the first quarter but roared back to win behind the heroics of Russell Wilson.  He never panicked or lost his cool during the entire game. The black QB that set the table for Griffin and Wilson, was Marlin Briscoe.  He was the "First" modern day black starting QB in pro football.  They called him "The Magician."

Marlin was only 5-foot-10 and 177 pounds when the AFL's Denver Broncos took him in the 14th-round of the 1968 draft.  He started eighth on the Broncos' QB depth chart in training camp.  The NFL did what they had been doing for decades to black college QBs, they switched him to defensive back.

On September 29, 1968, starter Steve Tensi suffered a broken collarbone, and backup Joe DiVito who replaced him was not getting the job done.  Head coach Lou Saban called Marlin from the bench in the fourth quarter against the Boston Patriots to give him a try.  He completed a 22-yard pass on his first play. On his second series he marched the team down field for an 80-yard touchdown drive.  During the drive he completed a 21-yard pass and ran for 38 more himself, he ran the last 12 yards for the score.

On October 6, 1968 Marlin Briscoe broke the Denver huddle and surveyed the Cincinnati Bengals defense.  He walked to the line of scrimmage and became a part of American sports history.  The game made him the first starting black quarterback in the AFL.

He threw 14 touchdown passes that year, still a Denver rookie record. He completed 41.5 percent of his passes, and averaged 7.1 yards a carry on the ground and his 17.1 yards per completion led the American Football League (and ranks 18th all-time). He also ran for 308 yards and three touchdowns.

As the Bills headed into the1969 season, Marlin was still determined to play quarterback, but he discovered that head coach Saban intended to use Pete Liske as the starter.  The powers-to-be were still not ready for a black QB even though he proved he could do the job.  He asked to be released.

Marlin went to the AFL's Buffalo Bills where he was turned into a receiver.  The deck was stacked against him. The Bills already had superstar Jack Kemp, former Pro Bowler Tom Flores and James Harris, another black quarterback with a more prototypical 6-foot-4 and 210 pound frame.

Marlin never played quarterback again, but he enjoyed a great career. He led Bills in touchdown catches in each of his three seasons there and in receptions twice.  In 1970 he was in the top two in receptions and receiving yards and became an All-Pro.  Marlin Bricoe played 9 years of pro football before retiring.  A movie is being made on his life story (Russell Wilson should play the lead).

In the meantime, Russell Wilson and his Seattle Seahawks fall behind the Atlanta Falcons 7-0. On the opening drive in the first quarter, he throws an interception that was returned for a tounchdown.

Things got worst the Seahawks fell behind 21-3 but the cool and calm Wilson led his team back to tie the game 28-28.  The final score would be the Falcons 31 the Seahawks 28.  Despite the lost Russell Wilson proved that it is never over when he is on the field until the final whistle.

The last black QB standing is 49er 2nd year pro (he came close to being another rookie QB) Colin Kaepernick.  He took over for starting QB Alex Smith in November 2012 and has not looked back since.  In his first play-off start against the Green Bay Packers he ran for a record 181 yards (rushed for 2 TDs) and threw for two touchdowns to his go-to WR Michael Crabtree in a 45-31 victory.
A win this weekend will put him in a position to become the second black QB to win a Superbowl since the Washington Redskin's QB Doug Williams bombed out the Denver Broncos in 1988. 
To be young, black and gifted in the NFL in 2013.

PREDICTION
San  Francisco over Atlanta
Baltimore over NE    
WASHINGTON POST SPORTS COLUMNIST EXONERATES ESPN'S ROB PARKER
ROB PARKER       RG lll          STEPHEN A. SMITH 
On Sunday January 12, 2013 there was a column titled "Why won't Washington Redskin QB RG lll talk about his team's name?"  The story appears in the Outlook section of the Washington Post.  The commentary was written by Washington Post sports columnist Mike Wise.

He was knowingly or unknowingly asking the same question former ESPN analyst Rob Parker was asking his colleagues on ESPN's "First Take" and a national television audience on Wed December 12, 2012.  Rob wanted to know if RG lll was a real brother or a Cornhead brother and if he was down with the cause (where was his loyalty?). 

Wise is a talented writer but he runs hot and cold much too often (more cold than hot), in this edition he is running hot!

According to Wise and I quote " I thought that Robert Griffin lll would be the perfect person to take on a problem that's been plaguing Washington for decades: our football team's ill-considered, objectionable, offensive, racist, totally unaceptable name" 'Redskins!'

Wise said (summarizing), "The one person who could make Redskin owner Daniel Snyder come to his senses and realize it is time to stop demeaning Native Americans. But I fear that Griffin is not that guy, and not just because he'll be focused for the next few months on physical therapy on his knee. No young, dynamic leader of an NFL team is that guy (or old dynamic leader). 
Pro players (or blacks in sports media at ESPN) who take on controversial social debates are gone, replaced by athletes (or sports media personalities similar to Stephen A. Smith) whose goal is not to offend-because that would mean fewer commercials, a loss of sponsors and, God forbid, a Q rating lower than Michael Jordan's."
The bottom-line as Wise pointed out in his column, there are no more Muhammad Ali, Jim Brown, Arthur Ashe, or Curt Floods "who were down with the causes!"

That was all Rob Parker was asking on ESPN's "First Take."  The question if you re-call 'Is he a brother or a Cornhead brother and is he down with the cause?'  The answer according to Wise's column is YES to both questions.

First, ESPN suspended Rob for 30 days before waiting two weeks into his suspension before firing him.

Wise, I am sure can relate to Rob Parker's fate at ESPN he was recently fired from his sports talk show at 107 FM "The Fan" in DC which I am sure he thought was unfair (welcome to the black side)!

We must remember as we move forward (or backwards depending on where you are sitting) professional sports in America are still the highest form of exploration.  The plantation mentality is alive and well (a media pressroom is a close second).
When you hear a brother saying, "I don't want to be identified as being black." He just became Houdini in the black community, now you see me and now you don't!

Whether Mike Wise wanted to or not he cleared Rob Parker's name with the blessings of the Washington Post!  He revealed RG lll's real identity but the sad part of this story---RG lll has plenty of company!
Red Hot Note:
In that same Outlook section sitting at the top of the page is a story titled "With empathy for all." Its a memoir based on the life of Supreme Court Justice, Sonia Sotomayor.
She talks about "The Game Called Life" while growing up Hispanic in a housing project in the Bronx.  She has not forgotten who she is and where she came from--unlike most of us who think they have made it in America after the smell of success!  She is proud to be a Hispanic/American. We were once "Black & Proud??"

If I was still working in the streets, alleys and playgrounds of Simple City and Barry Farms in SE DC and I had the choice of RG lll, Tiger Woods, Michael Jordan, Clarence Thomas or Sonia Sotomayor to watch my back, I'm asking Sonia to walk with me.

Since I had not seen or heard the show I held back judgment and waited until it re-aired on Sunday March 2nd.
It is rather ironic that Wilbon and I had a recent conversation about the use of the N word.  The conversation took place in the pressroom before a Wizard's game at the Verizon Center.  He told me ESPN wanted to have a conversation on the use of the N word on Outside the Lines.  The show would be hosted by Levy.  He said, "I am not comfortable doing the show with Levy." Wilbon cited that he had no problem with Levy as a journalist but he had "No horse in the race" and he refused to participate." These words out of Wilbon's mouth got my undivided attention 2010.