scoreboard
THE GREATEST IS STILL THE GREATEST!
I Remember it was 40 years ago in October 1974 when Muhammad Ai Roped A Dope in Zaire Africa:
        JOE FRAZIER----GEORGE FOREMAN----THE GREATEST
Ali shocked the sports world on October 30, 1974 when he knocked out George Foreman in the 8th round in a fight known as The Rumble in the Jungle. 
The Dope he roped was none other then the Heavyweight Champion of the world. Big George would later admit "Ali outhought me and he outfought me."

Ali and I met in Chicago prior to the big fight.  He invited me to go as his guest.  I turned down his invitation I was not too thrilled about flying across all that water.  A decision I now regret.
But he promised me on his return back to the United States I would be the first media personality to interview him in New York City.  I never will forget how confident he was that he would return victorious.
                     ALI, PAT PATTERSON AND H. BELL
       Sitting on the mountain top it does not get any better
The champ was a man of his word.  He called me after his arrival back home and gave me the green light to head on up to the Big Apple.  The interview was held in his hotel room overlooking Central Park.
My producer Rodney Brown and cameraman Wil Williams would accompany me on this historical journey.  On our arrival in the hotel lobby I called the room number he had given me.  He answered the phone and said, "Come on up!"  He opened the door while combing his hair and said "What I tell you boy, I am the Greatest."  We all started laughing--he was right again.
In the best interview I have ever seen Ali give.  He talks about controversy, friendship, truth, the innocent of a little child, the difference between a boxer and a fighter, The White House and self-sufficency.  He closes the show talking about his commitment to the Nation of Islam.
The interview is captured in the video titled, "The Legends of Inside Sports."  Its one of a kind.  This is the Greatest being the Greatest as he talks about The Game Called Life.  Forty years later the topics are still revelant.
The interview is one of a kind there is nothing like it in the market place.  In 2007 a group brought the rights to Ali's name and likeness for 50 million dollars and 20% of the monies generated from advertising.  It was a great deal for the champ because of his age and failing health.

                               The Champ & The Dope
My interview is distinguished by his left black eye and it was not for sale.  The champ never allows anyone to interview him with marks on his pretty face.  If you ever see any parts of my interview with Ali and he has a black eye--you will know it is my interview with the champ in November of 1974.  The interview made its debut on NBC affiliate WRC-TV 4 in Washington, DC in November 1975.  It has not been seen since.  I have the copy rights to the entire interview. Stay tune.

THE NBA RACE CARD IN 1975 AND 2014--ONE OF THE SAME?

BILL RHODEN AND SONNY HILL NEW YORK TIMES SPORTS WRITER AND A PLAY GROUND BASKETBALL LEGEND RESPECTIVELY SAY, "LITTLE HAS CHANGED IN PRO SPORTS MEDIA PRESS ROOMS!"
I met the notorius and infamous Petey Greene in the lates 50s at the all exclusive Burning Tree Golf in a Maryland suburg(Bethesda).  The golf course catered to the rich, famous and the most powerful white men in America. Decisions regarding the country were sometimes made on this golf course.  Their wives were not allowed to play but their black caddies could play on Mondays?
I was the new kid on "The Block" at the golf course and was told by my homeboys to stay away from Petey and his rolling gambling casino in the backwoods on the course. Petey was a drug addict, ex-con and a hustler of the worst kind (cheat). I was forewarned because I had a "Gambling Jones" (habit).  My second week at the course I got in early and became bored while waiting for my homeboys.  We would all usually ride back to our NE housing project together.
Even back then I was a "Show Me" kind of guy in my neighborhood and school. I was an all-round athlete at Spingarn High School.  My teammates and coaches were often challenged by my "Just give me the ball and get the hell out of my way" attitude.  I was not the best athlete on the field or on the court, but I thought I was.
When the game was on the line I wanted the ball in my hands.  But my "Show Me" attitude with Petey didn't work.  He showed me.  I was broke after several turn of the cards (Blackjack).
Now I had to figure out a way to tell my homies what happen and explain to my mother how I had been to the golf course all day and had come home broke!
While I am trying to figure out my next move the Golf Pro Max Elbin calls me for 2 bags to carry for some late evening golfers.  I was so happy before he could tell me who I was caddying for I had the bags on my shoulders and was headed for the first tee.
Suddenly, I heard this voice saying, "Harold are you ready for an adventure?"  I turn to say 'Yes Sir' and I see these two white men smiling, it was the Vice-President of the United States, Richard M. Nixon and Attorney General William Rogers.  
It didn't take me long to understand the adventure Mr. Nixon was talking about.  His ball stayed in the woods and trees more then the birds and bees.  
It was a hot evening and the constant in and out of the woods was not a pleasant undertaking.  
Mr. Rogers was a great golfer and a class act.  He was giving the Vice-President lessons on how to play. He had the patient of Job (Bible). What I thought would be a nine-hole outing turned into eighteen holes and a White House visit and a Presidential appointment in 1969.  President Nixon was a big sports fan if he had not become President his career path would have surely been as a sports writer or a sports talk show host.
   Atty. General William Rogers, Hattie, President Nixon and HB
Petey and I would become great friends and in 1965 we would meet again.  The United Planning Organization a self-help community organization was hiring "Neighborhood Workers."  They hired three, me, Petey and H. Rap Brown.  Two years later Rap would be named Chairman of the Student Non-Violent Coordinating Committee.  I would become a Roving Leader (Youth Gang Task Force) for the DC Recreation Department and Petey would find his new home in radio at WOL.   
In 1967 Petey would give me a 5 minute time slot on his Sunday evening talk show to discus sports.  The rest is community and sports media history.  Three UPO "Neighborhood Workers" would go on to establish their own independent idenities.
Petey would win 2 Emmy Awards and in 2007 there was a feeble attempt to do his life story on the big screen. The movie was titled "Talk to Me" starring actor Don Cheadle. Petey died in 1984.  
H. Rap Brown career path took a turn for the worst. He is now in jail serving a life sentence for the murder of a black Deputy Sherrif in Fulton County, Georgia.  
The Good
In 1971 I would become the first black to host and produce his own radio sports talk show at W-O-O-K "The Original Inside Sports."  In November 1975 I would become the first black to host and produce his own television sports special in prime time on NBC afilliate WRC-TV 4.  My special guest was 'The Greatest' Muhammad Ali.
I have interviewed some of the greatest athletes, entertainers and politicians of our time.  
My media association with the NBA started in 1971 and I have see the Good, the Bad and the Ugly and sometimes they have been one of the same.  
The relationship with the NBA got off to a rocky start.  In the late 70s my media mentor Sonny Hill invited me to attend the NBA All-Star Game in Houston, Tx.  He then explained to me the proper procedure for aquiring press credentials.  I called the league office and got the mailing address to request credentials and filed a request.  
When Sonny and I arrived in Houston we checked into our hotel room.  Our next stop would be the press media room to pick-up our credentials. 
There we would find the man in charge of the credential process, Mr. Brian McIntyre.  He was sitting almost alone and there was no one waiting in line (compared to today's media circus).
Sonny introduced me and picked up his credentials. But Mr. McIntyre could not find my request and refused to issue me credentials. I pleaded with him for understanding; as why would I fly all the way to Houston from DC and make up a story about credentials?  He would not budge. 
I stood there for almost 30 minutes watching media types pick-up their credentials.  It finally hit me I had an "Ace in the hole" NBA legend Red Auerbach.
The next break at the press credential table I asked Mr. McIntyre if he knew Red Auerbach?  His response, 'Yes do you?'  I then asked for permission to use his phone, request granted. 
I remembered my last conversation with Red, he said he would not be coming out for the game. 
I knew Red and Dotie's number by heart and I called their residence.  The voice answering the phone would be Dotie.  I asked for Red and she told me he was out at Woodmont Country club Playing cards. 
I would guess she heard the urgency in my voice and asked me if everything was all right?  I explained to her that I was in Houston for the NBA All-Star Game and I was having a problem getting press credentials.  She asked to speak to Mr. McIntyre.  The two spoke for a couple of minutes.  He hung up the phone and said "No problem!"
The Bad
But It would be a problem in the Bullets/Wizards pressrooms. It was here I would encounter "The Media Relations Directors from Hell!"
There were no minorities in charge of media relations during that era.  I remember when me and a white sports writer by the name of Frank Pastor decided to integrate the Bullets press table in 1974. 
Frank and I were just returning back to our seats from a half-time break.  We were waiting at the top of the arena for a break in the action.   I looked down and notice that all the white media were seated on one side of half-court and all the blacks were seated on the other side of the half-court line.   
I mentioned my observation to Frank and without hesitation he said "I am going to sit in your seat and you sit in mine."  We quietly integrated the media press table without a police escort or an angry word.
But everyone was not overjoyed about the new pecking order. Mark Splaver was the man in charge of the Bullet press table and he was not a happy camper. 
The very next game I discovered how unhappy he was.  I arrived at my seat a little late but I noticed that members of the media had been issued new media guildes, but there was none at my seat. 
I found Mark to tell him about the oversight and he just looked at me and walked away without a word.  I returned to my seat. 
Jerry Sachs was the Bullet's President and he was a class act.  He would usually be seated at floor level near the press table.  We often shook hands and exchanged words as I walked by.  This time he asked me was everything all right?  My response "I am fine Mr. Sacs." 
In less then 10 minutes Mark came back to the press table and tossed the media guild on the table in front of me and walk away.  This was unacceptable and I got up to follow him and evidently Mr. Sacs had watched the whole episode unfold. He stepped in front of me and said "I got it."

It would be the start of the 4th quarter that Mark returned to the press table table and apologize for his unprofessional actions.  I accepted his apology.
In 1980 I was named "Washingtonian of the Year" Jerry was one of the first to mail me a personally hand written note congratulating me and Hymie called me and cussed me out and warned me not to get too big for my britches ---the congratulations carried different messages but one of the same, respect.
The Good
Bullet players Phil Chenier, Larry Wright, Carlos Terry, Greg Ballard, Coaches, KC Jones and Bernie Bickerstaff and front office types like GM Bob Ferry and Bob Zurflu all supported my community endeavors (Celebrity Tennis & Fashion Shows).
   Standing L-R Bob Ferry, kneeling 2nd from left is Bob Zurflu
The bad
The Bad press relations with blacks in media continued at the Verizon Center.  There were other mistakes like someone thought a black Judy Holland was VP material---far from it.  Her media relations project was player Rick McHorn.
I spoke with Mr. McIntyre at the NBA All-Star Game in Philadelphia over 2 decades ago about minority problems in gaining access to NBA press tables as it related to the Bullets/Wizards.  He suggested we meet for lunch and discuss the matter.  It took a minute but in the meantime, he was making an effort to bring about change in his own way.  But according veteran (32 years) sports writer Bill Rhoden of the New York Times, progress in sports media pressrooms around the country are on a slow boat to China.
His recent appearance on the widely acclaimed television news show Meet the Press, he said, "the NBA, NFL and MLB are still dragging their feet.  
In my travels there are media press rooms I go in where I am still the only black face in 2014!"  That is a sad commentary, but what I suspected all along. Media pressrooms at Deadline are still the last plantations. 
Pioneering broadcaster and former NBA CBS basketball analyst Sonny Hill and now a sports talk show host on WIP Radio in Philadelphia said, "I am not surprised by Rhoden's statement, very little has changed in media pressrooms.  One of the problems there is no networking among blacks who have moved it up the ladder."  That is an understatement.   
Rhoden was a regular on The Inside Sports Media Roundtable long before he appeared on ESPN's Sports Reporters and Meet the Press.
The Ugly 
In 1978 a writer in the Style section of  the Washington Post conspired with several of his colleagues and took my show title "Inside Sports" to New York City.  In 1979 he found and published Inside Sports Magazine.  He is now the VP of ESPN television, his name is John Walsh.   The copy rights for Inside Sports is own by News Week Magazine and it is own by the Washington Post.  The beat goes on!
I have been in the sports media for 45 years.  I was still having problems gaining access, of all places at the Verizon Center.  
First, there was a a problem with the PR Men from hell, Brian Sereno and Matt Williams.  
It was brought to my attention that Sereno was disrespecting the ladies of The Roundball Report.  He had called co-host Christy Winters-Scott a liar over something trivia. Andrew Dyer the Executive Producer of the show asked me if I would intervene and I did.  He thought there was a double standard.
The Roundball Report aired on PG Cable 76 (is strictly a basketball show).
I e-mailed Sereno and asked for a meeting.  The meeting was set before a Wizard's game in the press louge but Scott Hall was the lead man.    
Scott was a breath of fresh air.  He listened and we disagreed on some points but when we walked away from the table we were on the same page.
The next thing I knew Brian was gone and Matt Williams had replaced him.  Williams had an ego that was as big as he was.  He not only alienated members of the the media but people in his own department.  He was soon gone without a trace.  
Christy Winters-Scott has since moved on and she is now a studio co-host for Comcast Sports another media plantation. 
It is very difficult to see and understand perceived slights (racism) if you have not walked in the other person's shoes.
Enter, Scott Hall
Scott's willingness to discuss what was thought to be a problem has since become a lesson of what can happen when folks can sit down and talk.   I will bet his staff is one of the most diverse in the NBA (I could be wrong).  The problem with racism people are scared and uncomfortable talking about it (to include blacks).
The Good
The Washington Bullets' home was the Capitol Centre in Landover, Maryland.
Hymie Perlo was and still is irreplacable.  His presense is still missed today. His heart was as big as the arena that he worked in. He was the best PR man in the NBA bar none.  The community and everyone in it was a friend, the old and the young, the black and the white and the healthy and the lame.  Hymie was  a jewel of a man.  I was honored to speak at his retirement held at the arena just before the Bullets moved to Washington and changed their name to the Wizards.
Denny Gordon was in ticket sales and it seem like he knew everyone who brought a ticket.  He loved his job and Bullet ticket holders loved him.  
I look around and the holdovers from Landover in 1978 are far, few and in between.  There is Dolph, Arnie, and Paul still on staff.  Phil Chenier is on the broadcast team and Kenny Burns is a Supervisor in security.  
The Ugly
In  1975 Bullets coach KC Jones was fired by owner Abe Polin after losing in the NBA finals to the Golden State Warriors in 4 straight games.  He was made the scapegoat after being sold out by his assisstant coach Bernie Bickerstaff and others.  Bickerstaff was rewarded when he landed a job with the new Bullet coach Dick Motta.  KC was and is a class act.  He is one of the nicest men in pro sports.   
                                  HB AND KC JONES
1977 I was a Nike rep when Nike NBA rep John Phillips invited me to meet him in the NBA Office in New York City.  The meeting revolved around a charity all-star game scheduled for the Bahamas, the island home of NBA star Mycal Thompson.  The game had been played the year before without incident or controversy.  Magic Johnson was one of All-Stars participating.
Representatives from the NBA included VP Ron Thorne, Legal Counsel Gary Bettman and head of security Horace Balmer.  John and I were in for a shocking revelation.  Bettman claimed the game could not go on as planned because the NBA own the players.  We could not believe our ears.  My response was, "Are you saying this is a plantation?"
The room went silent, Thorne called the meeting off and said he would call us later, but he never did.
Magic disappeared and changed his number.  
Gary Bettman is the Commissioner of the NHL, Thorne is somewhere lurking in the NBA, Balmer has since retired and Magic is a role model for Black America?  
The short lived existence of basketball legend Michael Jordan as a Wizard's player and Executive in the front office.  His dismissal from the team by owner Abe Polin was a sad day for many.  
In December 2009 Gilbert Arenas brought a handgun into the Wizards locker room.  After the story broke he and several teammates made light of it during introductions of a game.  He was eventually suspended for most of the 2009–10 season.
The thing that I find disturbing about this Donald Sterling charade is that folks are acting like they were surprised by his rants against blacks.  
I also notice the same "Old faces and voices" are called on to respond to the racist acts by men like Sterling---when they are a part of the problem .  
Faces and voices that I am familiar with like Magic Johnson.  He and Sterling were good friends because "Birds of a feather flock together."   Check Magic's history out and you will discover the two have a lot in common.  Magic's claim to be a minority owner of the LA Dodgers is another sham (token black face). I know for a fact he was anything but a victim.
Rev. James Brown (CBS Sports) another mis-guilded brother claiming to be a minority baseball owner and an expert on racism.  He did finally admit on the late George Michael Show (Sports Machine) "I have no say in making baseball decisions as a minority owner."  His role as a minority owner is to be paraded out on Opening Day as the black face to read the starting line-ups.  Come on man!
ESPN's Michael Wilbon, was front and center as an expert on racism in America with ABC's Diane Sawyer.  
This is the same Michael Wilbon that I had at least two recent conversations about the use of the N word as a term of endearment.  I have to give him credit, he will at least talk to me face to face and not behind my back.  I tried to explain that his rationale that his grandfather's use the word as a term of endearment does not make it right today.  I told him he should not go on national television saying it is okay to use the N word among friends and family.  It gives bigots like Donald Sterling the Green Light to do the same among his friends and family.
Plus, Michael told me he was not going to appear on the ESPN Show Outside the Lines because the white host had no horse in the race!  Two weeks later I turn on the television and there he is front and center.  
I wish that Magic, James, Michael and the rest of the media experts would defer to black men like Hank Aaron, Dr. Harry Edwards and even Jim Brown and Bill Russell.  Brown and Russell sometimes talk out of both sides of their mouths.  But they wear the battle scars and have been on the front lines of the civil rights movement in real life and in the sports arenas of America.  In other words, they have been there and done that.
I guess that is wishful thinking, especially when everyone wants to be an expert on television.  In the meantime, they don't know their asses from a hole in the ground but the beat goes on and on.  
 
 NBA RACE CARD: WHO'S ZOOMING WHO? In 1964, Red was the first coach to play the first-ever black NBA starting five.  They were Bill Russell, Willie Naulls, Satch Sanders, 

Sam Jones, and K. C. Jones.  Auerbach would go a step further in the 1966-67 NBA season, when he stepped  

down after winning nine titles in 11 years, and made Bill Russell player-coach.  
trailblazers, RED AND DOTIE AUERBACH ON INSIDE SPORTS
Russell would eventually be the first black to win an NBA championship.  He would later be named the NBA's first black General Manager.  It was Red Auerbach and Walter Brown who not only talked the talk but walked the walk.  They led the way against all odds.
Fast-forward to April 2014, how was it that Donald Sterling's racist actions against minorities went undetected under the NBA radar for decades?
First, Sterling belongs to the exclusive 1% club of billionaires in America.  He does not need to wear the traditional KKK robe to be a member in good standing.  There are far too many crying "Foul" and playing the victims in this charade, to include some NBA owners.
Let me start with my homeboy, the great Elgin Baylor who was the Clippers GM for over 2 decades. His teams were perennial losers on the court and in attendance, but he picked up his check every two weeks and kept his mouth shut.  Elgin lived by the premise "You don't bite the hand that feeds you."
 
DC'S FINEST THE GREAT ELGIN BAYLOR was considered the worst gm in the nba during his 22 year tenure. 
Elgin finally cried "Foul" when Sterling fired him.  He carried his former boss to court in 2010.  He filed a wrongful termination and sued Sterling for racism.  
In his deposition, Elgin spoke about what he called Sterling's 'plantation mentality,' alleging the owner in the late 1990s rejected a coaching candidate, Jim Brewer, because of race. Baylor quoted Sterling as saying: 'Personally, I would like to have a white Southern coach coaching my poor black players.' He dropped the racism from the suit.  The case was thrown out of court in 2011.    
LOS ANGELES naacp pRESIDENT leon jenkins ON HOT SEAT 
The other entity to cry foul and caught with their hands in "The cookie jar" was the local branch of the Los Angeles NAACP (The National Association for the Advancement of Colored People).  Talking about an organization needing a change of name and a face-lift---meet Leon Jenkins.
Jenkins seen above at a press conference trying to explain why the local branch was honoring Sterling during the 100th Anniversary of the organization next month.  
He explained the previous award had been approved by the man he replaced and he just went along to get along. But this time he was on the Hot Seat for approving the second award in May.  Jenkin's excuse for not cutting ties with Sterling was lame at best.  He said "We were reluctant to make decisions based on rumors!"  We deal with the actual character of the person as we see it and as it is displayed."   
This is another example of the blind leading the blind all that Jenkins could see was "Show me the money."
The taped revealed exactly how Sterling felt about black people, including his good friend Magic Johnson.  He had his fingers in Magic's eyes and his foot in his butt at the same time.  
Sterling won't be the first to sleep black and think white when it comes to sex, politics and money. Slave owners lived by the credo and in modern day history there was the late Senator Strom Thurmond. The plantation mentality is just a board meeting away.
I will always remember a meeting in the NBA League Office in 1978.  Nike NBA rep John Phillips and I met with VP Rod Thorn, League Counsel Gary Bettman and Head of League Security, Horace Balmer.
The meeting centered around whether Magic Johnson, Mycal Thompson and a group of NBA All-Stars would be allowed to travel to the Bahamas for a charity basketball game without league approval. The game had been played in the Bahamas the previous year without incident or controversy.
It was obvious that there was a power-play being made by the league office to cancel the game. Thorn open the meeting by asking who was going to be responsible if one of the players was hurt during the game?  John's response, "Each player has his own insurance policy."
Bettman response, "You cannot assume that each player has insurance and you cannot go forward with this game without the league's permission."  
John and I had met with Magic and Mycal before the meeting and had given them a heads up.  They both were still ready to participate.  Magic suggested that the topic of conversation just might be centered around an injury to a player.  He was right on point.
To this day I think Magic had a previous discussion with the league office.  
I responded to Thorn's concern because it was legit. I tried to explain that playing the game was no different then one of the players participating in a pick-up game on a New York City playground in the off season.  In fact they would be safer playing in the Bahamas among their peers.  The risk of injury was minimum.  
Before Thorn could respond to me Bettman blurted out "You cannot do that we own them."  John looked at me as if to say 'I cannot believe he just said that.'
My response to Bettman, "What do you mean you own them.  What is this some kind of plantation?"
The room went silent and Horace Balmer the only other black in the room just shook his head and seem to be lost for words.  The meeting went downhill from there.  Thorn called off the discussion and promised to get back to us but he never did.
In the meantime, Magic Johnson disappeared and changed his number.  John Phillips met with Mycal Thompson and cancelled the game.  Mycal was a class act but his hands were tied when Magic decided to do his Houdini act.
Gary Bettman now runs the NHL, Ron Thorn is still in the NBA somewhere calling the shots, Horace Balmer has since retired and Magic is the face (black) in the middle of the Donald Sterling charade. The Race Card is front and center.  When all is said and done, the real victim despite all of her baggage is the girlfriend (The Whistle Blower) V. Stiviano.
NBA Commissioner Adam Silver during his annoucement as it related to the punishment of Donald Sterling apologize to black NBA pioneers Earl Lloyd, Chuck Cooper and Magic Johnson.  But forgot to thank V. Stiviano???

Stiviano and Sugar Daddy Sterling
I am betting Magic Johnson and his NBA counter-parts throw her under the bus----stay tune. 
NEVER SIT ON THE BENCH:
FRAN TARKENTON A SUPER STAR IN THE GAME CALLED LIFE!

Minnesota Viking QB Fran Tarkenton
Every year since 1963, the Small Business Administration takes the opportunity to highlight through its National Small Business Week the impact of outstanding entrepreneurs, small business owners, and others from all 50 states and     U. S. terroritories. 
This year's events kicked-off on June 17th in Seattle, Dallas, St. Louis, Pittsburg and closed out the week on Friday June 21st  in the Nation's Capitol.   
My wife Hattie was watching the news on television on Thursday morning when she saw former NFL QB Fran Tarkenton.  He was talking about the Small Business Administration's role in helping small businesses get a foothold in the American economy

I WAS TRAYVON MARTIN
I was stalked by a new neighbor in Bowie, Maryland several years ago and I didn't even know his name.  I had only seen him and his wife in passing on the 4th floor of the senior complex where we both lived.  One hot July evening I was sitting in the family room in the lobby talking on my cell phone.  The new neighbor with his wife were waiting for the elavator when he said, "Harold can I speak to you?"  I nodded yes and kept on talking.  In the meantime, his wife got on the elavator and left him standing there. 
Once I had finished my conversation, I remained sitting and asked him "Whats up?" The next thing I knew he was standing over me with his knees on my knees!  My reaction, this was not a nice to meet you introduction. 
I immediately stood up and asked "What is your problem?"  His response, 'You are the problem, I heard you have been talking about me!' 
I wished I could have seen the look on my face, because I could not believe my ears.  The incident took me back to my middle school days.  I remember the school bully John Tilley would catch me in the hallway or on the bus and say the exact same thing.  He would take my money and lunch. 
I tried my best to explain to the new neighbor I didn't even know his name so how could I talk about him?  He insisted that I was talking about him, my next question "Who told you that I was talking about you?"  It took him about 10 seconds before he finally said, 'I heard voices coming from under your door.'  I immediately retreated because I knew I was dealing with a fool. 
My parting words were, "If you got a problem with me it is best that you don't say anything to me ever again."  I returned to my apartment to tell my wife what had just happen.  She brushed it off as nothing. 
We had left the inner-city of DC to get away from from the so-called "Rat Race" because it looked like the rats were winning.  I remember the turning point, one Thanksgiving we returned home from Hilton Head, SC to discover our home had been burlarized.  I am a 4th generation Washingtonian and the last thing I wanted to do was pack up and leave my hometown.  My wife and I had spent the last 40+ years working with at-risk children.  She was a former teacher in the DC Public Schools.  I worked for DC Recreation & Parks' Roving Leader Program, Youth  Gang Task Force.  In 1968 we found Kids In Trouble, Inc a non-profit 501c3 organization to enhance the lives of inner-city children. 
The late Chief Judge Harold Green of the DC Superior Court ran a tight and honorable ship with Judges Luke C. Moore, Harry T. Alexander and Eugene Hamilton to name just a few.  I knew Judge Moore from my days working as a Roving Leader.  We would often cross paths in the mean streets of DC.  He was the head of the U. S. Marshall service.
During the 1968 riots we walked arm in arm with NFL Hall of Fame and Green Bay Packer player Willie Wood.  During the NFL off-season Willie worked for DC Rec & Parks.  We were in the 14th Street corridor trying to save lives. 

Kids In Trouble, Inc kept my wife and I in and out of the DC Superior Court with our kids and their parents.  The court became our home away from home.  It was there I watched people of color and the poor get a fair trial and there was justice for all.

Judge Alexander demanded all attorneys, police officers and prosecutors to address all defendants as Mr and Ms in his courtroom.  In 1970 these same judges helped me to get through the DC politics to open the first ever half-way house for juvinile deliquents on a military installation in the U. S. A.  The facility was housed on Bolling Air Force Base in SE DC.
Judges Moore and Hamilton
"Has anybody seen my old friends Luke, Harry and Eugene, I looked around they were gone," these are words from the Smokey Robinson vocal classic Martin & John.
Santa's Helpers: Dave Robinson (NFL), Judge Moore, Harold McLinton (NFL) & Roy Jefferson (NFL)
There was one thing that I discovered after our move to Bowie, "You can run but you cannot hide."  We already knew that the Prince Georges County Police Department was one of the most dangerous and deadly departments in the country, second only to the Los Angeles Police Department (according to the FBI).  The court system was not much better.  On any given day you can go to the Upper Marlboro Courthouse and you would think that black folks were the only ones committing crimes in the county.  The place is overrun with white lawyers and judges.  Diversity is almost non-existent.  This is where you will truly find Justice & Just-Us plantation style----the system is truly broke (see Ronnie White)

In the meantime, back at my residence in Bowie I discover my printer is out of ink.  I decided to walk over to the mall before it gets too dark to get an ink cartridge from Staples. 
Guess who joins me on the elavator for the ride down to the first floor---my new neighbor?  He looks at me and I look back at him. The next thing out of his mouth "Do you want a piece of me?" 
I could not believe my ears.  The elavator reaches the first floor but I decided I better return to my apartment and lace up my tennis shoes in case I decide to run over to Staples. 
On the way out of the building I look but I don't see my new neighbor.  There are several of the residents in the Community Room playing cards and being nosy old folks.  I wave and say hello to all and leave the building.  While walking across the parking lot to the street I speak to one of my neighbors sitting out soaking up the evening sun.
As I head toward the street I feel someone behind me and I turn and its my new neighbor.  I asked him again "What is your problem" and he repeats, 'I have already told you, you are the problem.'  This time he walks up to me and put his chest up against my chest and I smell alcohol on his breath.  I push him off and all hell breaks loose.  He rushes me and I hit him with a couple of punches and he starts to bleed.
The next thing I know he had gone up under his shirt and pulled out a billy club (night stick) and starts to swing.  It must have been 100 degrees that day as I start to wrestle him for the club.  The next I remember was crawling on my hands and knees back to the building, leaving him lying on the ground with the club. 
I madeit back to the nearest entrance and one of my neighbors started to scream, I was covered with blood.  She took me to the Community Room and called the Bowie Police Department.  While we waited for the police my new neighbor entered the building lobby a bloody mess waving the club---the residents were horrified. 
The police finally arrived and took my statement.  They then went upstairs to find the new tenant and returned with the weapon (club).  I was advised to go to the Upper Marlboro Court House and file charges since they did not witness the incident. 
The ambulance was called and my wife and I would spend almost all night at Arundle Hospital in Annapolas.  Where we discovered all the blood on me belonged to our new neighbor Bob.
I filed assault charges against him the next day with the States Attorney's office headed by Glenn Ivey.  I was familiar with Mr. Ivey and his staff.  He followed former County Executive Jack Johnson into office. 
I had written a commentary in the Washington Post critical of him in his staff.  It was related to a group of high school students that met with his staff to try to find some solutions to the crime and violence taking place in the PG County school system. 
There was no follow up from Mr. Ivey's staff.  The students turned to me and I put the ball back in Mr. Glenn's court.  I put together a group of community leaders and we met with the States Attorney's staff in his office.  To make a long story short his office staff fumbled the ball again.  We determined it was the blind leading the blind and moved on. 
This would come back to haunt me in my assualt case against my neighbor. 
Bob would follow me to the courthouse and file counter assualt charges against me.  In his disposition.  He wrote the reasons he attacked me was because he heard voices coming from under my door.  I spoke with several attorneys (black and white) and everyone agreed this guy had a problem.
Suddenly the case came to a stand still.  There was postponement after postponement.  It was not hard to figure out why, Glenn Ivey had not forgotten the Washington Post article or my visit to his office.  The case was eventually dismissed. 
I was told by an insider if I had not filed charges first, Mr. Ivey would have come after me. 
This despite the new neighbor putting in writing he had attacked me because he heard voices coming from under my door. 
Bob is still living in the complex despite having encounters with 3 other residents (all black).  His wife has since left him. He now he carries a butcher knife under his shirt as he moves in and out of the building.  The best way to describe Bob, he is an accident waiting to happen.

Even though Justice & Just-Us has raised its ugly head in our court system once again.  I need to count my blessing because instead of Bob attacking me with a billy club it could have easily been a gun.  With the likes of Glenn Ivey in charge in Upper Marlboro, Bob could have shot me dead and walked away as free as George Zimmerman. 
There would have been the brothers and sisters saying "Harold Bell deserved a bullet in the eye."  Like it or not, it is the American way!
ZIMMERMAN BROUGHT A GUN TO A FIST FIGHT----NOT GUILTY: JUSTICE & JUST-US!

                      TRAYVON MARTIN DEAD AND GUILTY      GEORGE ZIMMERMAN  ALIVE AND NOT GUILTY             

In an interview shortly after the jury retired to deliberate, Defense Attorney Mark O'Mara was on CNN.   The words that came out of his mouth made me cringed.  The first person he blamed for making this a racial issue was the Trayvon Martin Family attorney Ben Crump.
I didn't hear him blame the NBA world champion Miami Heat who made their own bold statement as it related the senseless gun violent death of Trayvon or President Obama's statement on national television.  He said, "This is a tragedy and I think about my own kids.  If I had a son he would look like Trayvon Martin.  His parents should expect that the authorities are going to get to the bottom of what happen." 
Muhammad Ali donned a hoodie that said "I am Trayvon Martin."
O'Mara said, "this is not about race and race should be taken out of the equation."  He must be kidding!  It was Zimmerman who put Racism in the equation when called Trayvon a FUCKIN COON during his conversation with the 911 operator!
He reminds me of the controversial Celebrity Chef Paula Deen who alledgely use The N word to describe her love for black folks.   Like most well meaning whites  she has no clue that she is a racist.   How should we expect her to know if she has never walked in our shoes ?  When it is a part of your DNA it is difficult to rid yourself of the gene. 
One morning I was watching Ms. Deed on one of the talk shows trying to explain her way out of the mess she had created.  The host of the show asked her did she ever use The N Word.  She said, "One time because I was not raised like that and my parents would not allow such language in our home."  Ms. Deen suddenly turned to see her serurity person standing in the wings.  She pointed him out as her friend whom she had known for years.  When I say "There are some white folks who don't know when they are being racist."  The next words out of her mouth proved my point.
Ms. Deed asked the security guard to move out of the black background because she could hardly see him.  He  was truly a big black brother who stood well over 6 feet tall and weighed at least 250 pounds.  He came out of the darkness and they hugged and kiss.  She didn't mean any harm while making fun of his blackness it was in her DNA. 
My point, Ms. Deen was not being racist she just didn't know any better.  The well paid brother never thought to teach "The Boss" about what is racist and what is not.  She showed him the money and all was well. 
The defense attorney O'Mara for George Zimmerman has the same problem, he just does not know any better.  He does not know that 28 of every black youth in a population of 100,000 in the age range of 10-24 is a victim of homicide in America.  This is compared to 2 of every white youth in a population of 100,000 in that same age range.  Deaths from homicide in this age group resulted in an estimated $9 billion in lost in productivity and medical costs in 2010.  Something is wrong with this picture?
There are some claiming that Zimmerman is more Hispanic than white, that is still no excuse.  There are those in the Hispanic population who have taken on the characteristics of the oppressor and think a black life is not worth that of a cockroach.  Sad but true.
Black on black murder in this country does not say a lot about what we think of each other.  There lies the problem, in our homes, schools, churches, courts and political leaders---its all about them and show me the money! 
There are those in the white community who have asked on many ocassions "When are you people going to get over slavery I had nothing to do with it?"  The problem, free slave labor built this country---you are the benefactors. 
When you find that you cannot have an intelligent discussion with the oppressor and let us not forget they come in all colors and shades---some are as black as Paula Deen's security guard.  White folks don't have a patent on racism.  Even though they are at the root of the problem blacks cannot continue to blame whites for the on-going racism in our community.

Ms. Deen recently proudly said "Jesse Jackson called proclaiming his love and support."  I hope she put the check in the mail.  
The Trayvon Martin case is an on-going problem in America, remember the black man that was dragged by a rope behind a pick-up truck in Texas by some "Good Old Boys" or the June 2008  hanging death of Ronnie White in an Upper Marlboro Detention Center.   He was being detained on charges related to the hit and run death 2 days earlier of a PG County police officer (still unsolved)?  Where was the Justice for them?

A recent study in  Washington, DC the Nation's Capitol revealed that 30% of the black population is being arrested while only 2% of the white population is arrested.  DC fast becoming a Police State?  What is it about racism in America that we can not figure out or don't what to figure out? 
ESPN host Michael Wilbon was writing a column for  the Washington Post back in the day on NFL Hall of Fame DE Bruce Smith of the Buffalo Bills.  Smith wanted out of the city because of the racist environment and was thinking about making his new home and team in Washington.  Wilbon asked me what did I think? 
My response was, "Trying to escape racism in America was like trying to outrun the sun!"  Nothing has changed.
As men and women of Good Will hold their collective breaths waiting for a verdict, never on my watch or in my wildest dreams would I have thought that after the assassination of Megar Evers, March on Selma, Emmit Till, 3 little girls blown up in church, 3 civil rights worker murdered in Mississippi, March on Washington,  assassination of President John F. Kennedy, Rev. Martin Luther King,  Robert Kennedy, Malcomb X, the election of the first Black President "The Elephant in the room would still be racism in 2013." 

tCOMTRAST IN RACISM IN BLACK & WHITE
PAULA DEEN
JIM BROWN
RACHEL JEANTEL
WHERE HAVE ALL THE FLOWERS (BLACK MEN) GONE?
MEET HARRY BELAFONTE & DR. BEN CARSON IN FULL BLOOM!          

          Harry Belafonte                        Dr. Ben Carson
The recent NAACP Image Awards honored the legendary Community Activist turned actor/producer Harry Belafonte with the Chairman's Award. This award was longed overdue and I wonder why it took the NAACP so long to finally recognized Mr. Belafonte's contributions on the frontlines of the Civil Rights movement.  His fight for the rights of the minority community is unmatched in the movie industry. He and legendary actor Marlon Brandon walked arm in arm with Dr. Martin Luther King in the deep south without fear in the 60s.
His lifetime actor/friend Sidney Poitier introduced him to the glitz and bling-bling predominantly black audience.  This in-crowd's only interest in the Civil Rights movement is being front and center at the annual Congressional Black Caucus Weekend in Washington, DC. Their main objective, a party over here and a party over there!
Mr. Belafonte in accepting the award asked, "Where are today's black leaders?  Our children's blood is still running in our streets---there is work still to be done. In 2013 the jails are overrun with black men who make up 60% of the prison population while they make up only 11% of the entire American population?
Actor Jamie Foxx closed out the night receiving the organization's final award.  He said, "Wow, I had my speech all planned I was coming up here to talk about me, me and me, but after listening to Mr. Belafonte I think I better take another look at me in the mirrow!"  I think Jamie finally got it!
On Thursday February 7, 2012 the Presidential Prayer Breakfast was held in Washington, DC.  
According to NAACP President Ben Jealous Black Americans are doing far worst under the Obama Administration. 
The most staggering statistic was reported in September 2011, when black unemployment reached 16.7 percent making it the highest unemployment rate for African-Americans since 1983.
The black teens jobless rate was even more staggering at 39.3 percent in July 2012.  
Jealous has evidently cut all ties with his partner Rev. Al Sharpton. Sharpton is Obama's point man in the black community. 
The NAACP, the National Urban League, and the National Action Network met alongside other organizations for the second time this year to discuss a "Black Agenda" for the president, Politics 365 reports. The coalition stated it will urge President Obama to mention an urban jobs plan in his state of the Union speech on February 12th----Good luck!
On Thursday February 6, 2012 the annual Presidential Prayer Beakfast was held in Washington, DC.  The guest speaker was legendary heart surgeon Dr. Ben Carson of John Hopkins University Hospital.  His prayer and message was centered around health care, the economy, American debt, and tax reform, thus taking dead aim at President Obama's platform for the nation.
Dr. Carson spend 25 minutes talking about the nation's ills and solutions with the President sitting less than 5 feet from him.  When all was said and done, President Obama was not looking so Presidential! You could plainly see he was uncomfortable in his "Hot Seat!"
Dr. Carson also said Free Speech was being trampled on because of Political Correctness.  He said the PC cops had people scared to speak out and tell the truth.
The sad part of this great common sense speech, the Republican Party immediately claimed Dr. Carson as one of their own. Sean Hannity the conservative television talk show host invited Dr. Carson to be a guest on his show to discuss his speech.
Hannity opened the show kissing up to Dr. Carson saying, "Your speech moved me deeply."  Dr. Carson set the record straight from the very beginning.  He made it clear he was not taking any wooden nickels. He told Hannity, " I received overwhelmingly reactions since the speech, mostly because I believe I did not present a conservative argument, but a logical, common sense point of view.  I don't know where we left our brains."  I think he really lost the President on that one!
If I was the President I would have pulled Dr. Carson aside after the breakfast and said "Doc when can we get together and break some bread or have a beer in the Oval Office?"
Remember the Harvard professor and the redneck cop having a beer in the Rose Garden with the President of the United States acting as a referee?
Jamie Foxx kept it real when he admitted he needed to take a look in the mirrow, I don't expect the President to make the same confession publicly but during his State of the Union we will be able to detect whether he learned anything from Dr. Carson or took anything from the suggestion of the NAACP and the Urban League to mention establishing an urban jobs program for black America during his state of the Union speech---Good luck again!
I remember the television promo for Black Historical Colleges that said "A mind is a terrible thing to waste" the same can be said about one's ego!  See Dr. Carson's entire speech @ link below and you be the judge.
COMMENTS
K.Marie Mosley-Settles
His is an AMAZING story. God bless and continue to use him. In The Name of Jesus, I pray!
WorldClass64
Please run for President Dr ! What a great man
lordmerle
Major Kudos, Doc! You are an inspiration. Keep spreading your message.  God Bless!
stickmanproductions
Yup! Hope he goes into politics
Rebecca Holland Pilgrim
You are an inspiration. I would be honored to work with you (nurse) or vote for you. I think you have exactly what this country needs in leadership.
TeachESL 
I am feeling much more positive about the future of the U.S. knowing that this man exists!
Samherb1 
DARRELL WALLACE Jr.
A BLACK HISTORY MONTH MOMENT!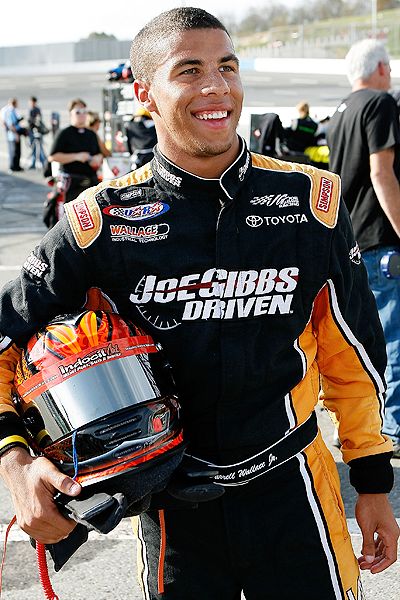 NASCAR's 19 year old Darrell Wallace is ready willing and able.
It won't be a Jackie Robinson moment (first black to play baseball in the Major Leagues). But don't blame Darrell Wallace if he feels like Jackie Robinson.  An announcement will be made on the Joe Gibbs Racing developmental driver during a Saturday news conference at the NASCAR Hall of Fame.
He will be following in a path that only two other blacks have taken and paved for him. Darrell will drive for Kyle Busch Motor Sports.  He is only the 3rd black driver in the history of NASCAR to have a full time ride in a National Series.  Bill Lester was the last to drive in one. He competed full time in the Truck Series from 2002 to 2006. He had two top-5s and seven top-10s in 142 races.
Darrell drove in the K&N Pro Series East for JGR from 2010 to 2012. In 2010, he became that series' youngest driver and the first black driver to win a race at Greenville-Pickens Speedway. He drove in four Nationwide Series races for JGR last season, collecting three -10 finshes and no finish worst 12th.
In 1964 the legendary Wendell Scott became the first and only black to win a NASCAR National Series at Speedway Park in Jacksonville, Fla.  In a controversial decision he was declared the winner only after a review.  The victory was initially given to driver Buck Baker.
NOTES & NEWS U CAN USE
NBC NEWS ALERT:
Aging America: Elder abuse on the rise

POLITICIANS & HIPAA:
GIVing NURSING HOMES A LICENSE TO KILL?

 Donna eDWARDS      BEN CARDIN 
Sgt. Earl K. Bell U. S. Army (U. S. Army Heavyweight Champion) and DC Metro Police Department 

HOT SEAT
NBC NEWS:
Aging America: Elder abuse on the rise
http://vitals.nbcnews.com/_news/2013/01/27/16725913-aging-america-elder-abuse-on-the-rise?lite
COMMENT (1 of 250): "Another aspect of the problem is the medical aid workers. Most of them are uneducated and untrained. A close friend of mine that has been partially paralyzed by strokes, pays for aids to "help". If they show up, they usually just sit and do nothing, root through her jewelry and personal effects, and some have been caught stealing jewelry. One was there when she collapsed with another stroke, and instead of calling for help, she called her boyfriend and left, leaving her patient to manage on her own. Which meant trying to crawl through the house to a phone. Most of the people these places hire are uneducated immigrants. They just want the money and could care less about the person . And the companies that hire them are too cheap to pay them decent wages.

SIRIUS XM MAGGIE LINTON
BRINGS MUCH NEEDED STRAIGHT TALK TO RADIO

Maggie Linton a former Program Director for Book Radio heard on Saturdays at 12:00 noon has moved to a new time slot and days during the week.  Maggie is a pioneer in radio and television news and sports media. She has been with Sirius XM Radio since it exploded on the broadcast media market in 2008. 
She was ready, willing and able to contribute to the national outlet with credentials that included studying radio/TV and film at the University of Kansa.  She was a pioneering sports reporter and talk show host in her hometown of Kansas.  She took her media career to the next level here in the DVM with television assignments in Baltimore and WTTG TV 5 in Washington, DC.  Her journey in the entertainment industry has included cameo movie roles in Hair Spray and The Guarding of Tess.  
She was one of the first media personalities to make giving back to the community a priority.  She teamed up with pro athletes, judges, entertainers and other community advocates to make a diffrence in the lives of at-risk children and the lives of the less fortunate.  When it came to the community, Down and Out was never a pass pattern.
The Maggie Linton Show debuted on Monday at 10am on Sirius XM Urban View channel 110. It runs M - F from 10am - Noon and starting on Monday July 22 will repeat from 4pm - 6pm each day. Tune in and join in, as she discuss the latest news and trends of America. 
On Thursday August 25, 2013 her in studio guest will be Gary Johnson the Publisher of Black Men In America and yours truly Harold Bell
ACCORDING TO ESPN'S MICHAEL WILBON
STICKS & STONES MAY BREAK HIS BONES BUT THE N WORD WILL NEVER HURT HIM?

                                                                                    Michael Wilbon & HB
John Feinstein a former colleague of Michael Wilbon at the Washington Post was on the record saying "Michael Wilbon is the biggest ass kisser in sports media."  Those words were rather harsh and hard hitting.  In other words Feinstein was saying, "Wilbon is sports media's biggest cheerleader!"  This was after Wilbon's co-host on ESPN's PTI was suspended for making fun of co-worker Hanna Storm's dress on national television.
Wilbon's response to Feinstein;
I don't need Tony Cornheiser to get suspended. He caught an earful of language and heat that was both deserved and will stay private. I'll match my credentials as a journalist with John Feinstein anytime. Cornheiser has often mistaken his opinion with fact and with legitimacy. Thing is, my father didn't raise me to be subservient to Junior, or anybody else. My opinions about Tiger Woods or any other issue are mine and I could give a damn about what Feinstein or anybody else things about them. The only thing special about Feinstein's opinions is that they're his. And I let him know that in very specific language that best belongs on HBO.
This isn't the first time Wilbon has been called out for "sucking up" to athletes (he haswritten books with Charles Barkley and Michael Jordan). In what we think is one of the 10 best sports bookswe've ever read, Michael Leahy of the Post beautifully deconstructed Jordan in When Nothing Else Matters: Michael Jordan's Last Comeback, and in the process took a shot at Wilbon.
"All along, I thought that Wilbon's treatment of Jordan highlighted the basic danger in getting too cozy with a subject," Mr. Leahy writes. The access that Mr. Wilbon prized, Mr. Leahy argues, came at the cost of ever being able to write something critical about his celebrity subject.
Mike Wilbon and Tony Kornheiser are immensely talented individuals and about 15 years ago, they were our sports writing idols. In their prime at the Washington Post, they were among the best sports writers in the country. What they don't do well is take criticism from colleagues. They'll definitely make the thin-skinned sports media member list.  
I missed the initial viewing of ESPN's Out Side the Lines aired on Sunday February 23rd.  The show hosted by Bob Levy examined the use of the N word.  I heard from several different sources that Michael Wilbon lost a lot of credibility when he justified his use of the N word as a term of endearment.
Since I had not seen or heard the show I held back judgment and waited until it re-aired on Sunday March 2nd.
It is rather ironic that Wilbon and I had a recent conversation about the use of the N word.  The conversation took place in the pressroom before a Wizard's game at the Verizon Center.  He told me ESPN wanted to have a conversation on the use of the N word on Outside the Lines.  The show would be hosted by Levy.  He said, "I am not comfortable doing the show with Levy." Wilbon cited that he had no problem with Levy as a journalist but he had "No horse in the race" and he refused to participate." These words out of Wilbon's mouth got my undivided attention 2010.
I have questioned Wilbon's mindset on different topics on several occasions as I have questioned others in media.  It has never been anything personal it is a price we all pay for writing or voicing our opinions in public.
I explained that to Wilbon when we sit down to talk at the Verizon Center.  He said folks had asked him about our relationship and he said "I told them everything is cool with me and Harold Bell we have talked." But what Feinstein said about him sounded real personal.
I first met Wilbon when he became a sports writer for the Washington Post in the 1980s.  He and members of the sports department were often regulars on my radio sports talk show Inside Sports. Sports Editor George Solomon was a regular participant.  Since he was the leader of the staff most of the black writers followed his lead. He even allowed me to write a couple of freelancing articles for the paper.  When the paper established their own television sports show I became a regular guest.  I was up close and personal with the sports department.
Kindred and Chad were talented writers but you could not trust them, Cornheiser and Feintstein's talent, they easily blended in with the landscape of the paper.  Feinstein called Wilbon the biggest ass kisser in sports media, if that is true he had great teacher in Cornheiser.  When Solomon tried to kick Cornheiser to the curve (fire him) in the 80s he was able to move to the Style section of the paper.  He carried the toilet paper around for owner Donald Graham.  One black female Washington Post columnist wrote a book titled "Plantation on the Potomac."  She was describing her employer.   
During his days at the Washington Post Wilbon and I bonded and became good friends.  We often discussed the politics of sports media.  He has called me a mentor.  I was proud of him taking a stand and refusing to participate in the forum on the N word because I agreed with his logic as it related to Levy.  
I thought to myself, "Why with all the blacks working on the Plantation/Set of ESPN why would they choose Bob Levy a white man to host an important forum on the N Word?"  The bottom line---no respect.  Former 60 Minutes and CBS Investigative Reporter Byron Pitts had a horse in the race but was given only a bit-part in the forum.  Remember, this is the same 60 Minutes that has yet to find a black reporter to replace Ed Bradley.
For example; if I tried to host a forum on the Holocaust with the leaders of the Jewish Community---it would never happen.
Bill Rhoden a sports columnist for the New York Times wrote a book several years ago titled "Million Dollar Slaves" as it related to black athletes in pro sports.  Rhoden could not see the forest for the trees.
When it comes to segregation, a media pressroom at "Deadline" is second only to a church on Sunday morning in America.
During the reign of George Solomon as overseer of the Washington Post sports department, there were some great writers and columnist who crossed its threshold.  In the 70s, 80s and 90s, my favorites, the greatest was Shirley Povich, followed by Tom Callahan, Byron Rosen, Donald Huff, Michael Wilbon, Dave Aldridge and Dave Dupree. The worst, were Leonard Sharpiro, Norman Chad, Dave Kindred, Tom Boswell, John Feinsteinand Tony Cornheiser (aka Howdy & Doody).  The common denominator separating the best from the worst, was H&TWW (Honesty & Integrity While Writting).  Huff once told me that Solomon ran the sports department like Adoplh Hitler ran the Nazi Army.

The panel of Carmen (Rapper/Actor), Jason Whitlock (ESPN writer), Ryan Clark (ESPN NFL Analyst) and Michael Wilbon (ESPN PTI) I found it to be rather odd and not well thought out.
There was no Dr. Harry Edwards, Hank Aaron or Jim Brown who can be a contradiction.  Jim can often be found talking out of both sides of his mouth when it comes to the black athlete and community involvement.  Especially, when it comes to where the black athlete spends his money.
His rallying cry, "Show me the money."  The common denominator is that all three black athletes have a track record of being forerunners in the Civil Rights Movement in America.  Hopefully, they were asked to participate and were of the same mindset as Wilbon not comfortable with Mr. Levy as the narrator for the forum.
There were several legit participants like Joe Lapchick a white man who has been in the war zones of the Civil Rights Movement and has the scars to show for it.
Another contradiction, the policing of the N word by the NFL is hypocritical.  The NFL owners are members of the"Good Old Boy's Club."  They have shown in the last few decades that they are not interested in having blacks or other minorities as owners.
How can you police the N word when in your own background you have one owner say to the media "No matter how offensive the word is I will never change the nickname of the Washington Redskins?  You can put that in CAPITAL LETTERS!"
NFL owners are paying Commissioner Roger Goodell $44 million dollars a year more and they think the players are making too much money?  Goodell makes more than any player in the NFL and he never has to make a tackle or catch a pass.
The owners recent pay out to the players for injuries suffered on their watch was peanuts compared to the billions they make year in and year out.  I thought it was an insult as soon as I hear it.  A federal judge denied preliminary approval of a $765 million settlement of NFL concussion claims, fearing it may not be enough to cover 20,000 retired players.  U.S. District Judge Anita B. Brody asked for more financial analysis from the parties, a week after players' lawyers filed a detailed payout plan.
I mean who is zooming who?
I never thought there would be the day when I would see and hear Jason Whitlock sound like he was smarter than Wilbon.  There were two previous blogs I read by Whitlock and one said, "Georgetown Basketball Coach John Thompson had revolutionized college basketball by opening up the game for other black coaches.  The other said, "I see NFL legend Jim Brown to be a hero in the black community?"  Both observations were totally out of focus.  I was thinking that John Feinstein could add Whitlock to his list of bigger than life ass kissers in sports media.  
Common and Wilbon cited the use the N word as a term of endearment and Jason having an opposing view was both logical and smart.  The introduction by Common proves he knows the history of the Civil Rights Movement but has no respect for the sacrifices of those who prepared a way for him.  When he refused a request by his mother to cease using the word and a similar plea by poet Myra Angelo.  The brother just don't get it---he lost me. 
In my conversation with Wilbon back in January I told him I once use the N and MF words as a regular part of my vocabulary.  My wife Hattie stepped in and made me re-think my whole vocabulary.  My work with youth and as a radio personality helped convince me that I needed to make a change and lead by example.    
Common's opening introduction was a compelling reason for all of us to stop using the N word because it was not our word in the beginning.  It was our oppressors who use the N word to violently destroy us by any means necessary.
The N word can still be found in our work place and in organizations that are overrun with black folks.  Thanks to envy, jealousy and self-hate white folks no longer have to take the lead as oppressors, blacks are now their own oppressors.
There are blacks who think since they have two more dollars than their employees or neighbors they have arrived.  Nothing could be further from the truth.  They are just N-----rich. 

It has been 50 years since Rev. Martin Luther King's 1963 march on Washington and 46 years since his assassination in Memphis, Tenn.  The facts: a white man still doubles the salary of a black man, black unemployment doubles that of the white community, 60% of the inmate population is black, segregated schools are returning to American neighborhoods and the list goes on and on.
Stand Your Ground Laws have given whites a license to shoot and kill blacks for no other reason then, "They looked suspicious or the music was too loud."  Have we forgotten, how the system has use bankruptcy, redlining, white collar crime, crack cocain laws, minimun wage and now the Stand Your Ground law to keep us in our place (in the back of the bus).   

I recently read that Stand Your Ground laws are like bleach, it works miracles for whites and ruins colors.
Use of the N word is comparable, whites use the N word to keep their history alive and blacks using the N word as a term of endearment insures and measures how far we still have to go.  Someone once said, "If you don't know your history you are bound to repeat it."
STAND-UP BROTHERS LIKE LA CLIPPER COACH DOC RIVERS AND PLAYER CHRIS PAUL ARE CAUGHT BETWEEN A ROCK AND A HARD PLACE.  STAY TUNE.
made a remarkable draft pick of future Hall-of-Fame guard Bill Sharman. With the high-scoring Macauley, elite passer Cousy, and new prodigy Sharman, Auerbach had a core that provided high-octane fast-break basketball. Other notable players who joined the Celtics were forwards Frank Ramsey and Jim Loscutoff. In the next years until 1956, the Celtics would make the playoffs every year, but never won the title. In fact, the Celtics often choked in the playoffs, going a mere 10–17 in the postseason from 1951 through 1956.[5] As Cousy put it: "We would get tired in the end and could not get the ball."[7] As a result, Auerbach sought a defensive big man who could both get easyrebounds, initiate fast breaks, and close out games.[2]
Prior to the 1950–51 NBA season, Auerbach was approached by Walter Brown, owner of the Boston Celtics. Brown was desperate to turn around his struggling and financially strapped franchise, which was reeling from a 22–46 record.[5] The still young but already seasoned Auerbach was made coach. In the 1950 NBA Draft, Auerbach made some notable moves. First, he famously snubbed Hall-of-Fame New England point guard Bob Cousy in the 1950 NBA Draft, infuriating the Boston crowd. He argued that the flashy Cousy lacked the poise necessary to make his team, taunting him as a "local yokel".[2] Second, he drafted African-American Chuck Cooper, the first black player to be drafted by an NBA club.[6] With that, Auerbach effectively broke down the color barrier in professional basketball.[3]
Former general manager Elgin Baylor, who spent 22 years with the organization and is an NBA Hall of Famer, filed a wrongful termination suit in 2010 that included further allegations of racism, per the Los Angeles Times' Lisa Dillman:
Sterling had been a prominent donor to the NAACP chapter for more than a decade. He ran newspaper ads touting his charity's generosity to L.A. organizations that help the poor communities.
But the real estate magnate had just paid $2.73 million to settle U.S. government claims that he refused to rent his apartments to Latinos and blacks in Koreatown.
The other entity to cry foul with their hands in the "Cookie Jar" is the local branch of the Los Angles NAACP (The National Association for the Advancement of Colored People).  Talking about an organization that needs a change of name and a change of leadership.
"The NAACP airbrushed this away and simply said that Sterling has been a gem in giving oodles of tickets away to needy inner city kids and ladling out some cash to charities and sports camps for them," community activist Earl Ofari Hutchinson wrote at the time on his website.
"The NAACP airbrushed this away and simply said that Sterling has been a gem in giving oodles of tickets away to needy inner city kids and ladling out some cash to charities and sports camps for them," community activist Earl Ofari Hutchinson wrote at the time on his website.
That is a sad commentary, but it is what I suspected all along.  
I will always remember a meeting in the NBA League Office in 1978.  Nike NBA rep John Phillips and I met with VP Rod Thorn, League Counsel Gary Bettman and Head of League Security, Horace Balmer.
The meeting centered around whether Magic Johnson, Mycal Thompson and a group of NBA All-Stars would be allowed to travel to the Bahamas for a charity basketball game without league approval. The game had been played in the Bahamas the previous year without incident or controversy.
It was obvious that there was a power-play being made by the league office to cancel the game. Thorn open the meeting by asking who was going to be responsible if one of the players was hurt during the game?  John's response, "Each player has his owninsurance policy."
Bettman response, "You cannot assume that each player has insurance and you cannot go forward with this game without the league's permission."  
John and I had met with Magic and Mycal before the meeting and had given them a heads up.  They both were still ready to participate.  Magic suggested that the topic of conversation just might be centered around an injury to a player.  He was right on point.
To this day I think Magic had a previous discussion with the league office.  
I responded to Thorn's concern because it was legit. I tried to explain that playing the game was no different then one of the players participating in a pick-up game on a New York City playground in the off season.  In fact they would be safer playing in the Bahamas among their peers.  The risk of injury was minimum.  
Before Thorn could respond to me Bettman blurted out "You cannot do that we own them."  John looked at me as if to say 'I cannot believe he just said that.'
My response to Bettman, "What do you mean you own them.  What is this some kind of plantation?"
The room went silent and Horace Balmer the only other black in the room just shook his head and seem to be lost for words.  The meeting went downhill from there.  Thorn called off the discussion and promised to get back to us but he never did.
In the meantime, Magic Johnson disappeared and changed his number.  John Phillips met with Mycal Thompson and cancelled the game.  Mycal was a class act but his hands were tied when Magic decided to do his Houdini act.
Is it a coincident that Armstrong and Spingarn High Schools have been shut down?  They are the only public schools in America with four pro sports personalities in the NBA and NFL Hall's of Fame. 
The most unique Educational Hill in America will soon follow Armstrong and Spingarn.  "The Hill" is located on Benning Road in North East DC directly across the street from historical Langston Golf Course.  The schools are all located on one stretch of land.  The closing down of Spingarn was the signal that Charles Young Elementary, Phelps Vocation and Brown Middle School will soon follow.  The stretch of land will soon become the playground for the rich and powerful.  There are plans to build high price condos as soon as the schools are knocked down, the Langston Golf Course will become the country club.  The Anacostia River will be the new highway to dock the new resident's boats yards away from a round of golf or to head over to National Harbor for an evening out at the casino.  
The more things change, the more they remain the same.  In the 50s and 60s we were cool attending, Armstrong, Cardozo, Dunbar, Fairmont Heights, Phelps, and Spingarn High Schools.
Our coaches and teachers and mentors had names like Joe Cole, William Rumsey, Stanley Gainor, Sara Honesty, Sal Hall, Snake Williams, Kenny Freeman, Ms. Fentress, Dr. Purvis Williams, Dr. James Gholson, Red Auerbach, Biff Carter, Jessie Chase, Morgan Wooten, Everett Cookie Payne Sr., Frank Bolden, Dr. Leo Hill, Roper McNair, Earl Alfred, Maxwell Honemond, Tilman Sease, William Roundtree, Charlie Baltimore, Jaky Mathews, Ferdinand Day, Nick Turner, Walter Brooks, Ted McIntye, and my saviors, Dave Brown and Bighouse Gaines.  They knew their Xs and Os, but more important, they were there for our highs and lows.  Where have all those flowers gone? We never could have made it without them.
I have given up on the Pigskin Club, but keeping hope alive for the DC Recreation Department and the Roving Leader Program. The DC Public Schools seem to have lost their way for the youth of today.  The children don't seem to have a clue and they are all looking closely at you.
I have not forgotten that my heroes could not hit a baseball out of the stadium, shoot a jump shot or throw a football 75 yards in the air.  My heroes were black women.  They had names like, Grandma Bell, Mommy B and Sojourner Truth.
Remember, the Capitol Classic, Griffin Stadium, Black Broadway, Sandy Point, Carrs' and Sparrows' Beaches?  It was there I saw Ray Charles, B.B. King, Ben E. King, Sam Cook, Jackie Wilson, Otis Redding, Four Tops,  Temptations, Five Keys, Sonny Till and the Orioles, Smokey Robinson and the Miracles, Tommy Hunt and the Flamingos, the Platters, O'Jays, the Dells and the Chantels. 
There were also the Philadelphia and Motown sounds and don't forget Pooky Hudson and the Spaniels, he gave us Peace of Mind.  Harold Melvin and the Blue Notes tried to Wake Up Everybody but we went back to sleep.
On Black Broadway on any given weekend you could see the jazzy and soulful Billie Holiday, Etta James, Billy Eckstein, Arthur Prystock, Aretha, Ella, Dizzy, Sara, and Miles who didn't care to smile and Satchmo who would smile for hours and hours. I have not forgotten stubborn kind of fellows like my homeboys, Marvin Gaye, Sammy Hawkins, Billy Stewart, Herb Fame and his peaches, and then there were Soul Train, Coltrane, and Gladys Knight and the Pips and the Midnight train to Georgia.
How about the places where we ate and the movies and churches we attended?  There was the Florida Avenue Grill, Face's, Ed Murphy's Supper Club, Ben's Chili Bowl, Howard, Lincoln, Republic, Atlas, Senator and Langston theaters.
My church was Mount Airy Baptist located at North Capitol & L Streets, NW.  The Rev. Alfred Johnson Tyler my Great-Grandfather laid the first brick to build the church in 1893.  I am a 4th generation Washingtonian.  My family settled here in the early 1800s.  The Tyler House is a low income housing complex built for senior citizens is named after my Great-Uncle the Rev. Earl Tyler.
I have not forgotten our mother land is Africa where the blood diamonds, oil, and gold are buried.  We must remember to tell our children that their ancestors where Kings and Queens and not hoodlums and thugs as portrayed in the media.  Have we forgotten that a black man designed the Nation's Capital?  His name was Benjamin Bannecker, a black architect.
Our ancestors were scientist, and engineers and built without hammer and nails the Pyramids that are still standing today.  Until we were kidnapped and brought to America we were happy in Africa being nappy, with our big butts, big noses, big lips, and rich melanin in our skin.  Happiness was being in the skin we were in!  Our ancestors who are too many to count are lying in a watery grave at the bottom of the ocean known as the Middle Passage. 
Our colors are from the rainbow, they are honey, mahogany, and chocolate.  Curtis Mayfield and the Impressions once sung, "We are a darker shade of blue."
We are the color purple, Redd Fox, Red Auerbach, Dave Brown, Jim Brown, James Brown, John Brown, Slappy White, Barry White, and Lady Sings the Blues. We were once Petey Green, and Al Green Full of Love and Happiness, but the loss of community, self-esteem, and our integrity, we have taken on the characteristics of our oppressors.    
REMEMBERING MY BROTHER SGT. EARL K. BELL 12-25-1940---8-1-2013
A GOOD COP WHO BROKE THE CODE OF SILENCE IN THE WASHINGTON, DC POLICE DEPARTMENT.  A CODE OF SILENCE THAT HAS GOTTEN EVEN LOUDER TODAY THEN EVER BEFORE!



Actor Al Pachino is seen here playing the role of New York City cop Frank Serpico.  The real Serpico is seen leaving the Bronx Courthouse alone after testifying before the Knapp Commission on wide spread police corruption in the department. Sgt. Earl K. Bell the Frank Serpico of the DC Police Department.
The story below is a reprint from Frank Serpico as he writes about the continued corruption and today's police brutality in police departments around America 40 years later
I call it "Testi-lying." It has been a regular practice in police forces across the United States, at least since I served on the NYPD: Official testimony that is made a part of a police after-action report but is pure lies, an invention.  In the old days police  would carry a "drop knife---an inexpensive weapon cops would bring along on patrol to drop onto or next to suspect that they had taken out so that they could say that he had threaten them.  Today you don't even need to do that; all that you have to do is justify the use of deadly force if you are a police officer is to say that you feared for your life, for whatever reason. If the victim dies, that just means there will one less witness around to contradict the test-lie.  
In the case of Officer Michael Slager of the North Charleston police, it appears he was being extra-carefulto cover his tracks.  Probably he could have gotten away with simply declaring, as he did in the radioed report, that Walter Scott "took my taser," and that would have probably have sufficed to exonerate him.  But Slager having shot Scott eight times in the back--as everyone can see in the now famous video--perhaps felt that he needed a little help explaining what he was up to.  So apparently dropped his Taser next to Scott's body, which would obviously help to make the case that Scott "Took my taster."
If you think that what happen in North Charleston is a unique case, its not.  Only recently, in another case, a policewoman in Pennsylvania first Tasered a black man then shot him twice in the back as he lay face down in the snow.  She was chasing him for an expired parking ticket.  There were five seconds between shots.  She said she feared for her life.  It was captured on her own Taser camera.
I have been saying this for a long time, ever since I spoke before the Knapp Commission investigating corruption in the NYPD more then 40 years ago: Unless we create an atmosphere where the crooked cop fears the honest cop, and not the other way around, the system will never changed.  Unless honesty is rewarded more often then corruption, the police will lose credibility altogether.  I wrote a letter to President Bill Clinton in 1994 addressing this very issue, saying that honest cops have never been rewarded, and maybe there ought to be a medal for them, he wrote back but nothing change.  Now in the era of citizen videotaping, police credibility is at stake as never before.  If enough testi-lying is uncovered, then who is going to believe the police even when they are telling the truth?  They will be seen as crying wolf.  
Until now the shoot first fear of my life mantra has eliminated any cause for concern in the taking of life by police.  When a civilian committs a crime, every nuance is looked at, the better to "throw the book at" the suspect.  When cops err, it is the opposite reaction.  Eyes are averted, aggravating circumstances are ignored.  And now the public is learning about every time a new video tape emerges that undermines the official police story.
There is only one solution:  The good cops really have to step up, and the system has to reward them, rather then punish them.  The other day I got a letter from a journalist in Argentina who was complaining about police and judicial corruption there.  I wrote back to him, there are good cops, even where you live, but if the good cops don't want to be painted with the same broad brush as the bad cops, they need to come forward and expose the guys who are doing bad things.                                               
  




Instead, you habitually get police union representatives defending these police officers no matter what they do.  Take New York City detective who was caught on camera recently abusing an Uber driver with threats and foul language,  This was truly disgusting behavior. Yet predictably enough the detective union leader, Michael Palladino, was out there making excuses for him, suggesting that, well, it was only one incident, and everyone has a bad day.  " Cops are just like everyone else," he said.  The detective is one of good character .  He really should not be judged by one isolated incident."  What Palladino overlooked was there were numerous other incidents in that officer's file that were not caught on tape.
What should the public believe when when everytime the police close ranks like that?  Afterward Police Commissioner William Bratton announced he was removing the detective's shield and placing him temporarily on desk duty while an investigation is conducted .  But this man needs to be demoted to uniform at the very least, or "back in the bag" as we use to say.  Imagine what he is capable of doing under the cover of darkness if he can talk to someone like that in broad daylight.  But will anyone follow up to see if that happens?
Its important to make the point that we shouldn't make cops feel that as a whole they are under attack.  There are plenty legitimate incidents where police believe, correctly, that their lives are in danger.  I was in a few of those situations myself during the course of my career.
But unless the police forces and society as a whole take action we're not going to be able to distinguish between the legititimate claims and made-up testimony.  And this is not just a phenomenon; the law itself needs to be changed so that when a police officer shoots a suspect in the line of duty, a real investigation is conducted, and by an outside, impartial body.
If changes are not made, the age of the citizen videotaping could began to alter forever our society's view of the police officers who protect us.  A long time ago Norman Rockwell painted a famous picture of a friendly neighborhood cop bending down to help a little boy. How much longer will America cling to that image, in the face of images of the kind we saw in North Charleston?
                                                                                                                       Frank Serpico is a former New York City detective             
END RUN:A TALE OF TWO WIDE RECEIVERS

Sirious XM Radio host Maggie Linton, HBell, Peirre Garcon, Gary Johnson (Black Men in America) and SpinFire CEO Fouad Qiretem
When I think of a combination of a great athlete and a great human being, I can usually count the ones that I have encountered in my life time on one hand.  For example; I could name someone who is a great athlete but a lousy human being or I could name someone who is a great human being but not a great athlete.  My choice would always be the great human being every time.
I have been fortunate during my career as a youth advocate (50 years) and a pioneering sports talk show radio personality (45 years) to meet several great athletes/great human beings.  Heading the list is Muhammad Ali (The Greatest), Red Auerbach (NBA), Dave Bing (NBA), Lenny Moore (NFL), Bert R. Sugar (Boxing), Lee Jones (NBA), Roy Jefferson (NFL) and Harold McLinton (NFL), finding pro athletes like them today are far, few and in-between.  And that is a sad commentary when you think about the hundreds of men and women I have interviewed on Inside Sports and worked with as a youth advocate (Kids In Trouble).   Its possible, I set my standards too high–honesty and integrity were the only requirements.

The Great Ones: Washington Pro Football players, LB Harold McLinton (Santa) Judge Luke C. Moore, LB Dave Robinson (2013 NFL Hall of Fame inductee) and WR Roy Jefferson host KIT toy party.  Sam Jones (NBA), Lenny Moore (NFL) and Roy Jefferson (NFL) participate in KIT clothing drive for needy children at Union Station.  Ali and wife Veronica attend KIT Awards Dinner.  The great Red Auerbach and wife Dottie (NBA) guest host on Inside Sports.  Bert Sugar (Boxing) receives KIT Life Time Achievement Award and Dave Bing (NBA) pays tribute to KIT Saturday Program All-Stars.
I had the opportunity to hear an interview on Sirius  XM Radio (channel 126) on the Maggie Linton Show recently, her guest was NFL Washington Pro football player, wide receiver Peirre Garcon.  I have not been very impressed with today's pro athletes and their give back commitment to their family, friends and community.  My problem, is how can you forget those who knew you when you had absolutely nothing?   Peirre was a breath of fresh air.  He has not forgotten who he is and where he came from.  He is the proud son of immigrant parents who hail from the island of Haiti.  He has three older sisters making him the youngest and the only one born in the United States.
His father died when he was 4 years old leaving his mother to raise him and his 3 sisters alone.  My background is similar to Peirre's, my mother had to raise 4 boys alone with an assist from Grandma Bell.  I remember my father as a Deadbeat Dad from birth, he was never there for us.  Peirre's mom was their Rock as our mom was our Rock!  When I speak to young people I remind them that my heroes were not black athletes, my heroes could not shoot a jump shot, hit a baseball out of the stadium, or kick a 60 yard field goal, my heroes were black women.  A similarity that Peirre shares.
Peirre Garcon was an outstanding wide receiver and track star (100 and 200 meters) in high school and college and that is where our similarities end. Many have claim that I was a great athlete, but I know a great athlete when I see one and I am not one of them.  My claim to fame was not being a great athlete, my claim to fame was I wanted the ball in my hands when the game was on the line.  I played football, basketball and baseball in high school and my "Gimme the ball" attitude kept me in the doghouse with my teammates and some coaches, I was considered cocky and selfish.
I thought every ball that was thrown in the air was my ball and no-one could check me one on one!  My baseball coach Dr. Leo Hill kicked me to the curve for stealing home to lose a ball game with our best hitter at the plate and final at bat.  Dr. William Roundtree the basketball coach made me turn in my uniform my senior year when I decided to switch from top defender to top scorer.  The football coach Dave Brown locked me on the bus for the second half of a game against next door neighbor and rival Phelps Vocational High School.  The reason, I jumped off-side and caught a touch pass for a 6-0 half-time lead but the play was called back.  I blamed my Quarterback Don Wills for not calling the signals loud enough for me to hear.  Coach Brown told me to stay on the bus and see if I could hear the signals from there.  Wills returned a punt for 63 yards to win the win the game 6-0.  I had to apologize to my teammates and coaches to stay on the team.  Smart decision–I was on my last athletic legs.
There was another similarity, I notice during the interview with Maggie how comfortable Peirre was sitting behind a microphone.  His major in college was communications and while on campus he hosted his own radio talk show.   The way he described his talk show format, he had no cut-card, nothing was off-limits or out-of-bounds.  Sounds like the original Inside Sports talk show format that is now copied around the country.
The "I Care" televised promos we see during the NBA Finals, Super Bowls and World Series are more about the billionaire owners then about the players giving back to their communities.  The first pro athletes to 'Care' and give back without calling a press conference were DC natives and hall of fame players, Dave Bing (NBA) and  Willie Wood (NFL).  In 1967 Dave was a rookie participating in the NBA All-Star Game in Baltimore when there was a drive-by shooting at a DC Public School.  A student was shot in front of Spingarn after a basketball game against cross town rival McKinley Tech.  I was working with the DC Recreation Department's Roving Leader Program( Youth Gang Task Force) at the time of the shooting.  I was a Spingar alumnus so I was assigned to the school in the role of peace-maker.  The young man shot was not seriously injured but talks of revenge persisted.  The question was, where and who could I turn to for help in bringing peace to this volatile situation?
The NBA All-Star Game was being played in Baltimore that same weekend of the shooting and a Spingarn alumnus was making his rookie debut, Dave Bing.   I had known Dave since he was a youngster playing basketball on the NE playgrounds in our community.  I had become not only a friend but a mentor.  My gut instincts told me to ride over to Baltimore and I did.   On Saturday morning I was waiting outside of the arena when Dave arrived with teammate Bob Lanier.   To say he was surprised to see me would be an understatement.  He could not believe his eyes, he said, "Harold Bell is that really you?"  While we shared a handshake and a hug, his Detroit teammate Bob Lanier introduced himself and disappeared into the arena leaving me and Dave to ourselves.
I explained the surprise visit and why I needed him to come to Spingarn and speak to the student body.  He was more than willing and on Monday morning he walked into the auditorium and the students gave him a standing ovation.  They had just seen him on national television playing in the NBA All-Star Game.  His words of wisdom brought an end to the talks of revenge and more violence.  Willie Wood was one of DC's finest all-around athletes and played 12 years with the great Vince Lombardi.  Lombardi led the Green Bay Packers to the first Super Bowl ever played.  Vince called Willie his coach on the field.  During the off-season he came home to work as a teacher in the DC Public Schools or with the DC Recreation Department's Roving Leader Program.  In the 6os the NFL was not paying the players these enormous salaries that today's players are making, so Willie had to find a second job to make ends meet.  During the 1968 riots Willie walked the streets as my co-worker along with U. S. Marshall in Charge, Luke C. Moore.  Luke was the first black in modern day history to head the U. S. Marshall Service (he was appointed by President Lyndon Baines Johnson).   The 3 of us walked arm-in-arm down the U Street corridor aka Black Broadway.  This was the hardest hit area in the Nation's Capitol.  In the 70s, 80s and 90s Willie and Luke were members of the Board of Directors of Kids In Trouble.  If Willie Wood was playing today, the New York Jets' Darrelle Revis would not be the only 16 million dollar defensive back playing in the NFL.
The great Willie Wood says thanks to the equally great Washington Times sports columnist the late Dick Heller.  Dick helped lead the fight for Willie's induction into the NFL Hall of Fame in 1989. 


As the receiving coach for the DC Public High School West All-Stars (1969), I am passing on some accumulated knowledge with receivers Bob Wagman of Wilson and Charlie Stovall of Cardozo. 
I have been watching Peirre from a distant since his arrival in DC 3 years ago (2012) via the Indianapolis Colts.  He has been called a pro's pro and one of the hardest workers in pro football.   He is not the rah-rah type of player, he leads by example.  He had a breakout season in 2013 when he caught a franchise record-breaking 113 receptions for over 1,300 yards.  He broke the great Art Monk's record.  The following year he had 50 less receptions and half the yardage gained.  I knew he was special when he never made an excuse or pointed his finger at his quarterback, that is why he is called a pro's pro by his coaches and teammates.
It looks like his silence and work ethic will be rewarded in the 2015 NFL season.  His head coach Jay Gruden and position coach Ike Hilliard who played wide receiver at a high level in the NFL, both said, we must find away to get Peirre more involved in the offense in the 2015 season.  The fanfare creative by the acquisition of  DeSean Jackson from the Philadelphia Eagles, which I consider the biggest heist in the NFL last year could pay big dividends in 2015.
In a story on NFL.Com, Gruden said more than once last season that he wanted to get Garcon more involved in the passing game. But it never really happened, whether it was a result of free agent DeSean Jackson's addition to the receiving corps, the revolving door at quarterback or the failure of RG III to make timely, decisive reads, is still the $64,000 question?
When the Redskins got back to work this off season, Peirre frequently lined up split out wide to the right of Griffin rather than in his customary spot to the quarterback's left. According to Hilliard, it represented an attempt to diversify the offense and get players comfortable with other roles.
And both Hilliard and Gruden spoke highly about the work Garcon was putting in. Heading into his eighth NFL season, Peirre, who'll turn 29 in August, didn't miss a session of optional workouts or the mandatory mini-camp.
"I'm impressed, especially with Pierre," Gruden said, asked his impressions of Garcon and Jackson, who exercised his right to skip several of the optional workouts. "Pierre has been here every day, working his tail off, doing a great job."  Hilliard was even more effusive, calling the 6-foot, 216-pound Garcon "a stud" for his effort in practice, the tough yards he gains after catches and his willingness as a blocker.
"Can't say enough good things about him," Hilliard said of Garcon, who had 68 receptions for 752 yards last season. "He's a pro's pro — a guy you model your game after if you're a young pro; a guy you pick his brain, if you're a young guy, when he's around. You watch him work; you process the game —or try to process the game the way he does. The consummate pro."
Another similarity, number 88 keeping their eyes on the ball and the Game Called Life 
When I think of Peirre's work ethic I think of my own as a high school, college and semi-pro player, I played the way I practice, I never took a play off. My teammates would often get pissed-off at me because I went hard on every play, I treated practice like it was the game.  I became a good blocker out of necessity–self defense.  My size made me a target for aggressive linebackers and defensive backs (bump and run).  I got tired of getting beat up, when I was not involved in the play called, I would blind side them to let them know, two could play their game.  This tactic worked for me because my playing weight was 170 pounds soaking wet compared to Peirre's 215 pounds.  Being a great downfield blocker helps Peirre get into his pass patterns and keeps the defensive backs guessing.  Most great wide receivers are also great blockers and actors.  The great NFL Hall of Fame player, former Washington Redskin wide receiver Charlie Taylor was a devastating downfield blocker.  He use to keep defensive backs and linebacker's heads on a swivel, they could not afford go to sleep on him.
Peirre Garcon is in a class by himself on the Washington Pro Football team.  He is the only active player that has caught 100+ passes and one of 3 players in the NFL who has average 5 receptions a game for an entire regular season.  If the Washington Football team is be in a position to make the play-offs in 2015, they will need a balance passing attack.  A healthy Peirre Garcon and DeSean Jackson are one of the most dangerous combos in the NFL.  The question marks are, can RG III make the proper reads and can running back Alfred Morris be the workhorse to keep the defenses honest.
Time out there is more, Peirre turns 29 in August and he has already prepared himself for life after the NFL.  His daring game plan for life after football to invest in pizza restaurants had many scratching their heads–another pizza parlor?  Peirre and his business partner Paisano's CEO Fouad A. Qreitem's new business venture is called SpinFire its all about pizza in 90 seconds.  And the customers can have it their way (any ingredient).  Right now there are locations in Ashburn and Rosslyn, Virginia.  There are plans to open stores at Tyson's Corner and Wheaton mall before the end of the year.
Peirre has huddled with teammates and other players in the NFL about franchising locations in college towns, where they could leverage their celebrity to attract customers (there is gold in them hills).
There is one other similarity, I was a "Mommy's boy."  There was no maybe, I was'Mommy's baby' of Mattie Bell's 4 boys.   To understand what makes Peirre the humble and strong brother that he is today, you have to look no further then his family, being an only son automatically makes him a 'Mommy's boy. '  And with 3 sisters, he is loved and protected by his heroes, black women.
Down and out was my favorite pass pattern, but Peirre's career pattern will be deep and long.